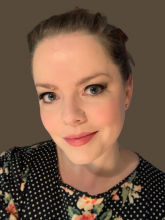 Tara Avery is judging the 2022 Page Turner Awards Writing Mentorship Award and offering a writing mentorship prize.

Tara is a writer, editor, and creative coach who works primarily with novelists (especially of speculative, romance, and mystery fiction), memoirists, and writers of screen - and stage-plays. She's interested in working with an author whose enthusiasm for storytelling shines through their sample, whether the manuscript is in its beginning stages or close to completion.

As a professional editor, she knows how many seemingly insurmountable problems can be solved with a patient ear, clear eye, and fresh viewpoint. As a writer, she understands how nerve-wracking it is to hand the results of all one's hard work and personal creativity to a near-stranger whose job it is to be critical. And as a creative coach, she favours positive reinforcement, compassionate honesty, and conversation over commandments.

Who, after all, hasn't heard nightmarish tales of the editorial red pen? Of teachers, professors, or even other writers whose harsh criticism leads to years of writer's block, self-doubt, and shame?

Tara believes in empowering authors to tell the best story that's in them to tell, and she does this by honouring their individuality, process, and imagination. Neurodiverse herself, Tara understands the frustration many feel when the usual writing advice or tips and tricks fail, and she's committed to helping authors find the approaches that work for them.