Writing Academy is offering a 1-year subscription to their Author's Success Bundle, worth $999 which gives students access to almost $3000 worth of writing workshops in a variety of fiction, non-fiction, and screenwriting genres.
Find out more: https://writingacademy.com/
Prize Value: $999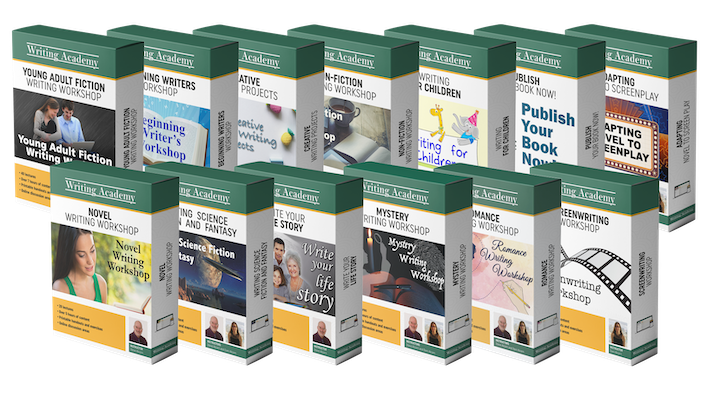 All these courses are included in this grand writing course prize! Take a look at what you get in this fantastic writing bundle.
FICTION COURSES
Beginning Writer's Workshop: Your journey starts with the basics of three-act story structure. You'll develop a firm grasp of the foundations of good story-telling, including viewpoint and tense.
Novel Writing Workshop: Next, you'll develop your own story idea. You'll create character sketches of your Protagonist and Antagonist, to make them feel like real, three-dimensional people. You'll also apply nine story-structure checkpoints to smoothly propel your novel from page one through its climax and resolution.
Young Adult Fiction Writing Workshop: Young adult fiction is one of the best-selling genres today, for both adolescent and adult readers.
You'll get inspiration from in-depth analysis of some best-selling young adult fiction on the market that will help you craft a YA bestseller.
Writing Science Fiction and Fantasy: Science fiction and fantasy, in all forms (books, TV shows, and feature films), is a wildly popular genre. You'll learn how to become a competitive and successful author of science fiction and fantasy.
Mystery Writing Workshop: Mystery readers are smart and dedicated. Mystery series often have dozens of volumes!
Learn how to plot a compelling whodunnit and create complex and interesting detectives that will keep your readers coming back book after book.
Romance Writing Workshop: Romance readers are voracious, spending more than $1.4 billion on romance novels every year.
Learn how to construct a satisfying journey from being hole-hearted to whole-hearted and hit all the beats that make a romance sizzle.
Writing for Children: Keep young readers engaged and entertained, all the way from picture storybooks to middle-grade readers.
You can use the insights gained in this course to give your children or grandchildren fond memories of story time or publish your work for generations of children to enjoy.
Creative Writing Projects: If you ever find yourself chronically procrastinating, you can jump start your daily writing habit with a course that steps you through planning a novel, week by week
NON-FICTION COURSES:
Non-Fiction Writing Workshop: Write non-fiction that keeps readers hooked, whether your passion is history, science, technology, politics, or balloon animals.
You'll also learn to craft compelling how to, self-help, and inspirational books.
Write Your Life Story: One of the greatest gifts you can give family and friends is your history and your experiences.
Create a memoir to share or publish that's worth displaying in a place of honour.
SCREENWRITING COURSES
Screenwriting Workshop: In screenplays and film, you can't really get inside a character's head to experience their thoughts and emotions. You'll learn techniques for externalizing these. Most importantly, you'll learn the specific formatting professionals use in Hollywood to write their screenplays. When your script lands on a producer's desk, they'll see you're a pro.
Adapting Novel to Screenplay: Having a novel and a screenplay gives you twice the marketing opportunities. Go through the adaptation process, step-by-step, to make the same story work in two very different mediums.
Publish Your Book Now!: At the end of your journey, your work is polished to a shine. It's time to get it into the hands of your readers. Walk through the publishing process, step-by-step. Finally, you'll be able to change your shingle from "Writer" to "Published Author."