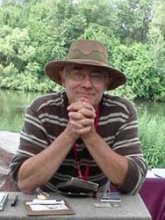 I live in rural Wisconsin and work full time as an artist-potter.  My wife and I are award-winning artists, (www.lindenhillspottery.com), creating ceramic art and showing throughout the mid-western USA.
After taking graduate courses in creative writing at the University of Wisconsin, I joined the Literary Loft in Minneapolis, continuing studies with Award-winning author Peter Geye.  An amazing writer's group has spurred my writing and kept me out of (or perhaps into) the depths of darkness. 
2017 - Winner of the 2017 SDSU writer's conference merit award for sci-fi novel, "The Change." 
2017 - Hummingbird Prize Editor's Choice Award for  'The Bruised Peach', published in Pulp Fiction January 2018.  
2018 - Semi-finalist in the Scotland Baltic Residency for Writers award.
2020 - Finalist for the Killer Nashville Claymore Award for the sci-fi novel "Killing Bodhi."
2020 - Finalist for the Page Turner Awards for "Killing Bodhi." 
 
2022 - Accepted by Mirador publishers for production of "The 2nd Coming of Orlando Rock."  Target release date: August 1, 2022.