Book Cover Image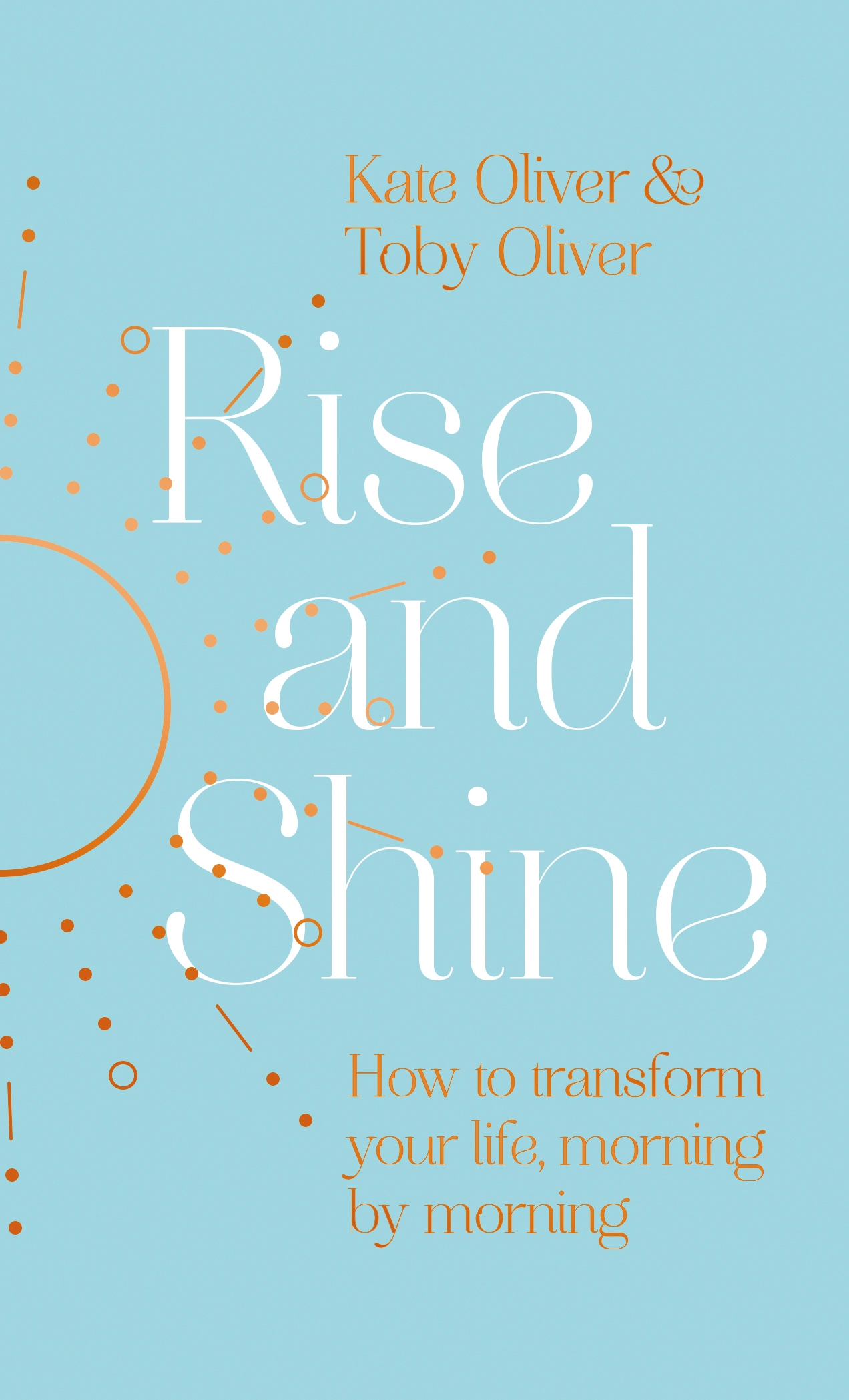 Logline or Premise
Do you rise and shine or rise and whine? The way you start your morning matters - it sets the tone for the rest of your day, shaping your mood, focus and productivity. In Rise and Shine, psychologist Kate and therapist Toby share their innovative way to creating good mornings: the S.H.I.N.E. method.
First 10 Pages
Introduction
Why it's time to wake up and find your S.H.I.N.E.
'This is a wonderful day. I've never seen this one before.'
– Maya Angelou
Good morning!
In our busy lives, it's all too easy to wake up feeling overwhelmed and rush into the day, pulled and pushed around by all the people, tasks and demands facing us.
We wrote this book to help you shine through and rise above life's changes and challenges. To be your best self, whatever the weather. We made it for you to keep on your bedside table, to motivate and inspire you each morning.
We're Kate Oliver, a chartered psychologist and executive coach, and Toby Oliver, a therapist and yoga and meditation teacher. We're also sister and brother.
Rise and Shine is based on the latest scientific research as well as age-old traditions, blended with the insights we've gathered from the more than five decades of professional experience we have between us.
We designed the S.H.I.N.E. method as a flexible way to help you create a new and positive morning routine: one that gets your mornings off to the best possible start and sets you up for a happy, healthy and successful day where you feel great and flourish.
The S.H.I.N.E. approach is made up of five categories of practices we recommend for an uplifting and energising start to your day: Silence, Happiness, Intention, Nourishment and Exercise.
In each section, we have curated six simple but powerful tools to help you to shine, sharing with you where they come from, why they work and how to use them.
The 30 S.H.I.N.E. practices you're about to discover have not only transformed our own mornings, but also the mornings of many other people we've worked with over the years, enabling them to improve their wellbeing, mental health, emotional resilience and productivity. As a result, these practices have transformed their lives.
We know they can do the same for you.
By starting your morning well, you're giving yourself the best possible chance of a wonderful day ahead. Because how you begin your morning sets the tone for the rest of your day.
Rise and Shine is for you if you want to change your life, morning by morning. To set yourself up to thrive.
Whether or not you think of yourself as a 'morning person', this book is for you. Whether you 'hate' mornings or 'love' them, this book is for you.
However 'old' or 'young' you are, this book is for you. Whether you work at home or travel to work, this book is for you.
If your days are a frenzied rush of activity, this book is for you.
If your days feel aimless and lacking in structure, this book is for you.
If your mornings are busy with work, family and other commitments, this book is for you.
Now is the perfect time to begin. Picking up this book has been your first step towards rediscovering your shine. Seize the day, and you'll soon see the results.
It's your time to rise and shine!
Kate and Toby
Part 1
Starting to shine
'They always say time changes things, but you actually have to change them yourself.'
– Andy Warhol, The Philosophy of Andy
Warhol: From A to B and Back Again
Chapter 1
Our stories
How we discovered the way to S.H.I.N.E.
'When you arise in the morning, think of
what a precious privilege it is to be alive –
to breathe, to think, to enjoy, to love.'
– Marcus Aurelius
Many of us don't share Marcus Aurelius's first thoughts on waking and it certainly wasn't always like that for us. Our mornings used to be very different. Like many people, we used to have unhelpful and unhealthy starts to our days. Here are our personal stories of how we turned that around to create morning routines that give us better balance and more resilience, and get our days off to a great start. In other words, how we learned to S.H.I.N.E.
How it all started
As an older sister and younger brother, who grew up sharing a room with bunk beds, we developed our own unhelpful morning routine early in life. It largely consisted of Toby, who slept on the bottom bunk, kicking Kate's mattress and calling out, 'Kate, are you awake?' with increasing ferocity until she grumpily shouted, 'No, shut up! I'm sleeping!' This set us up perfectly for a day full of squabbling, arguing and fighting.
Even when we later got separate bedrooms, we continued our pattern of arguing and fighting from the minute we woke up until last thing at night – much to our parents' despair.
It took several years before we stopped irritating each other, and even longer before we each discovered the life-changing benefits of a S.H.I.N.E. routine.
Kate's story
For a number of years, I had struggled with anxiety and depression. I used to sleep badly and wake in the early hours of the morning with my heart racing and my mind whirring, ruminating on things that had happened and worrying about the day ahead. I was often exhausted before the time came to force myself out of bed.
As a trained psychologist, I was really good at helping others and I knew the theory, but I couldn't quite seem to put it into practice to help myself. This made me feel even worse about things – I was scared of being 'found out' – and some days it seemed like I was only just staying afloat. It felt like my mornings were broken – and so was I.
A few years ago, after a relationship break-up, I hit rock bottom and decided that things had to change. I started a disciplined self-coaching programme. Every morning I would wake up and use a combination of positive affirmations, structured journaling and learning from inspirational podcasts. At first it was hard to do, but I stuck with it, initially because I was desperate to find anything that might help me to feel better. After a few weeks, though, I began to notice the positive differences this new morning routine was making. My anxiety levels were dropping, and I was able to be more resilient, focused and productive during the day.
Over time, I experimented with new and different practices, building in breathing exercises, meditation and other forms of movement, too, such as shaking (more on this in chapter 7). My life was transforming, and not just on a personal level: I was enjoying my work more and getting far better results with the people I was working with. My relationships were also improving, because I was calmer and more positive to be around. People spontaneously told me that I seemed much happier, more grounded, radiant; they said they were inspired by the changes in me and asked me what I had done to create these.
I started to share some of my morning techniques with my training and coaching clients, and I witnessed the difference these practices made to their lives, too. That's why I decided to write this book – so that as many people as possible can benefit.
As a freelance consultant running my own business, my work pattern is very varied from day to day. Sometimes, I am working from home all day and have to motivate myself to get going. On other days, I might have a really early start, travelling into clients' offices, or perhaps working overseas, focusing on the needs of others all day in a training room. Whatever I'm doing on any given day, my morning practice is now an integral part of how I start it. I want my day to start well, so I only allow myself positive inputs upon waking (no reading the news or my emails first thing).
Nowadays, my morning practices come from a sense of inspiration rather than desperation, because I know they set me up to shine throughout my day. Of course, I'm only human, so on those days when I do wake up feeling more challenged, my S.H.I.N.E. routine helps me to nurture, rebalance and focus myself for the day ahead. I vary the techniques I use to keep it interesting, but there are key elements that always form my morning routine's foundations, even on those days when I have only a small amount of time to dedicate to it. I recently turned fifty, and it's amazing to know that I have the power to create happy, healthy and successful days each and every morning for the rest of my life.
Toby's story
I used to love mornings as a child. I couldn't wait to get up and get going, because I was so excited and impatient to get the day under way. I just wanted someone to play with, and I couldn't understand why no one else seemed to share my excitement.
This pattern continued into adulthood. I would regularly find myself the first to wake, regardless of how late I'd got to bed the night before. I would fidget and fuss, unable to get back to sleep and 'accidentally' wake up my poor husband, frequently finding myself repeating that well-worn, childhood phrase: 'Are you awake yet?' Then, several years ago, life got busier, and work got more and more demanding and less and less enjoyable. I was juggling a very stressful senior management role with setting up a new business. On top of this, several people I loved were going through horribly tough times. It started to become too much. My mental and physical health were suffering. I found myself struggling to wake up and swearing at the alarm when it went off. I had to make myself crawl into the shower, resentfully force on my work suit and – on a good day – wolf down some toast as I ran out of the door.
I dreaded what 'horrors' yet another day held in store for me and my loved ones.
It's fair to say my mornings didn't start well, and the rest of the day was usually just as bad, if not worse. I was barely awake, let alone conscious. It felt like a non-stop rush from the minute my eyes opened to the second I collapsed exhaustedly into bed at night. My enthusiasm had gone, my energy was almost non-existent. My life had become all whine and no shine.
Then, one day, waiting for the kettle to boil, I felt myself at breaking point. My instinct was to run away and hide – from work, from life, from all the stress I was under. I had been attending Dru Yoga class one evening a week, and something inside me said, 'Why not do a bit of yoga now?' I decided to give it a go, right there in the kitchen, and it made me feel a bit better.
I soon found myself doing a simple yoga practice every morning. It changed how I felt going into even the busiest or 'worst' of days, and was often the highlight. Once I noticed this, I decided to set my dreaded alarm a few minutes earlier to fit more yoga in. I was slowly waking up to the difference it was making – not only to how I felt about the day ahead, but also to how I was able to deal with that day. I was starting to rebuild resilience and find some much-needed balance. I was starting to feel more in control and less in despair.
Ultimately, it was discovering the transformative benefits of this simple morning routine that convinced me to train to become a yoga teacher in order to share these benefits with others.
In time, I began to include more of the techniques you'll learn about in this book – such as joy (rediscovering my long-neglected love of reading), meditation, affirmations, learning and mapping your day. These were transformational, and my mornings became exciting again. I found myself growing more confident, coping better and becoming able to take my life in the direction in which I wanted it to go.
I know that without these morning practices, I wouldn't have had the confidence, creative energy or motivation to fundamentally change my life. I wouldn't have had the courage to leave my well-paid job, set up a theatre company (let alone produce a West End show), teach yoga and train as a therapist – or even write this book.
My morning routine brings a sense of structure and certainty back into my days. I now treasure the precious moments of silence and calm with myself after I wake. There's plenty of time and energy for work, and people to play with later in the day. And each day brings the chance of wonderful new adventures I never previously imagined possible.
Our new story
'I have always been delighted at the
prospect of a new day, a fresh try, one
more start, with perhaps a bit of magic
waiting somewhere behind the morning.'
– J. B. Priestley
Our Rise and Shine collaboration started to take shape after we accidentally ended up on a personal development workshop together. This was a slightly daunting prospect for a brother and sister, but we pushed through our initial awkwardness. And thankfully we grew even closer as a result, learning more about who we had both become as adults.
Shortly afterwards, we got talking about ideas we had for books we wanted to write to share our personal and professional experiences with others. It was at this point that we discovered how important our morning routines were to each of us. We discussed how they have helped us improve our mental health and navigate the many changes in our personal and professional lives. We also talked about how sharing our routines with them had helped many of our clients. And so the idea for Rise and Shine was born.
One of the lovely things about getting together to work on this book is that we've learned new practices from each other to bring into our own morning routines.
This is our first collaboration, and we're confident it can help you as much as it has helped us. As brother and sister, we certainly wouldn't have been able to work together so harmoniously without the amazing benefits we both get from our morning practices.
Introducing S.H.I.N.E.
S.H.I.N.E. is our approach to building a positive morning routine that will boost your mental, emotional and physical wellbeing, setting you up for a happy, healthy and successful day.
S.H.I.N.E. stands for Silence, Happiness, Intention, Nourishment and Exercise.
We want you to rise and S.H.I.N.E. Our years of combined experience have taught us that there are some key foundations that, when consciously put in place at the start of each day, enable people to feel good and be at their best.
S.H.I.N.E. is not a one-size-fits-all approach. With this book, you will learn how to create the right blend of Silence, Happiness, Intention, Nourishment and Exercise for you, by choosing the practices that work for you and fit in with your life. This flexibility lies at the heart of the S.H.I.N.E. approach.
S is for silence
Once we get into our day, there are many people and things clamouring for our attention. This can feel pretty overwhelming at times. Bringing moments of stillness, peace and reflection into your morning helps centre and calm you for the day ahead, whatever it may bring.
H is for happiness
Our morning mood sets the tone for the day. So if you begin by feeling positive and uplifted, you can move into the day with a smile on your face and cope resiliently with any challenges you may face.
I is for intention
When we don't know what we want to achieve from the day, it's easy to get distracted, lose focus and end up feeling demoralised. This is why it is important that you get clear on your intentions, so you can create your day rather than letting it create you.
N is for nourishment
We are living systems and we need energy to thrive. What you choose to feed both your body and mind when you wake up has a huge impact on the rest of your day. A healthy and nourishing physical and mental morning 'diet' will reinvigorate you for the day ahead.
E is for exercise
Our lives are increasingly sedentary, and we need to get moving to wake ourselves up and create vitality for the day ahead. This gives you the flexibility and strength you need to get through your day with ease.
"We took our time to carefully curate the thirty practices that make-up the S.H.I.N.E. approach.
We began by sharing those that we'd personally benefited from, as well as ones we knew worked well for our clients and that were backed up by scientific evidence.
It was fascinating to find out how many of the practices we had in common, and even more exciting to discover new practices from each other.
We tried and tested each and every one, discarding any that were too complicated or time-consuming. This left us with a final challenge: how to present the practices in a way that was both helpful and practical. It was clear that the practices fell naturally into groups – for example, the ones that help bring clarity and focus, those that are calming and centring, and those that bring joy and positivity to our mornings.
We both went away to reflect on how best to present our approach. Kate had the final inspiration, early one morning while sitting in her car. As the sun began to rise, she noticed the light shining off every surface, and an idea began to take shape. The notion of the 'shine' acronym allowed everything to fall into place.
The practices fitted perfectly into the five sections: silence (S), happiness (H), intention (I), nourishment (N) and exercise (E). And so the S.H.I.N.E. approach was born."
– Kate & Toby