Book Cover Image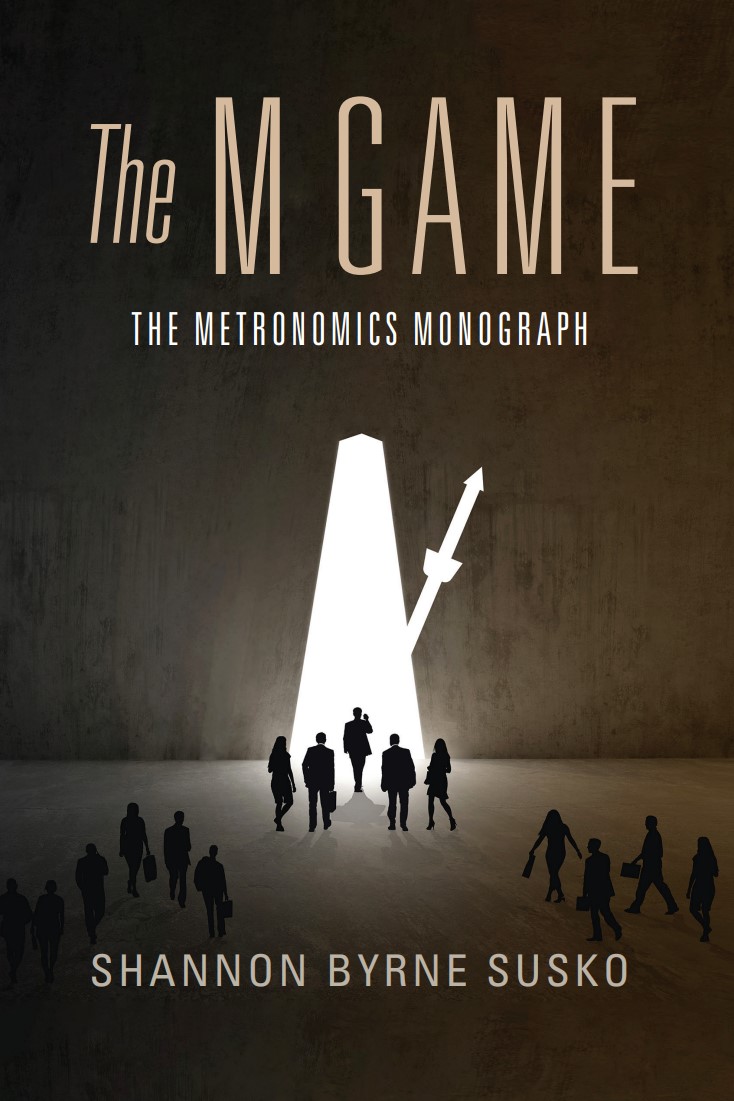 Logline or Premise
Experience the power of Metronomics with The M Game, the streamlined definitive guide to Metronomics crafted by celebrated entrepreneur and CEO+Leadership team coach Shannon Susko. This monograph demystifies complex business concepts and offers a clear path to sustainable growth and innovation.
First 10 Pages
Introduction
Reflect on the last three years in your business. The last year. The last quarter.
Did you achieve what you said you would in the time you said you would achieve it? Are you confident in the strategy you've set for your company? Is your team clear about this strategy? Is everyone working together and owning their part in executing the strategy?
I'm willing to bet that if you're reading this right now, you've already thought long and hard about the questions posed above, and you've established there is room for improvement.
You are not alone in feeling this way. Most CEOs, in fact, can relate to a lack of clarity around their strategy—for themselves, their teams, and their boards. I myself felt this way at one time.
It leads to wasted time and untimely decisions. You feel like there is no map forward. It's like you push and push and push, but your business just can't get to where you want it to be. You don't gain any momentum.
It's not because you haven't put in the work. You are a learner. You've read every business book you can get your hands on in an effort to become a better leader—from Good to Great to The Five Temptations of a CEO to the lesser-known titles you often see recommended in your mastermind, Forum, and CEO Roundtable groups and business networks.
And the books are fantastic. Each time you learn a new concept, tool, or framework, you're fired up and ready to implement it in your organization. You roll it out to your leadership team and then the entire company, with a timeline to grow, scale, and achieve success faster. Then you work hard—really hard, harder than you ever thought possible—to make it reality.
But you never do. It never catches on. The concept or framework doesn't gain a sustainable foothold in your business. No matter how much time you put in, you can't seem to figure out how to bring those incredible ideas you read about to life.
You put on a brave face. Your ego is on the line. So is your team's trust in you, the company's success, everything. But deep down, you know you are losing "your game." You start to think it's a lost cause. Maybe this is just how it's meant to be. What more could you possibly do?
The answer, however, requires you to reframe that question. Whether you're the leader of your first early-stage startup or a seasoned twenty-year Fortune 500 CEO, you know what to do. It's how to implement the what and bring it alive with your team each and every day that is the struggle. You're searching for a playbook that connects your team and your business and that is timely, addressing your goals now but with an eye toward the future, and repeatable so you and your team can turn to it again and again—every day, for that matter—to gain momentum and see the progression.
That's the opposite of what you're currently experiencing. Right now, nothing ever seems to connect. You have a team. You have a plan. But they do not connect in a way that is moving toward your goals.
The same is true of thought leadership. Even though you've read every book the business world has to offer, the ideas are great but siloed. They're not connected.
How do you pull them all together into one connected system that will work for you, your team, and your business? How do you unite every tried-and-true business framework, glue them together, and create and align a repeatable, structured, strategic execution process for your entire enterprise?
The answer is Metronomics.
Metronomics connects your company's team (soft-edge systems) with its business (hard-edge systems) through your established 3 Year Highly Achievable Goal (3HAG), which is your strategy mapped out, quarter by quarter, three years ahead. This forges the critical path to build a foundation for growth, gain momentum, and compound that growth in a stepwise progression. As a result, you achieve what you said you would achieve in the time frame you specified. You have a clear, simple strategy that gives your business a unique and valuable position. And you engage your team to own and execute that strategy using a progressive system.
It's the secret sauce to leveling up your business—finally, in one connected system.
Metronomics was developed based on twenty-plus years of CEOs searching for a system that would create momentum for their business. For many—including myself—success equated to working harder and longer at the expense of one's personal life. Then, my team and I decided something had to change. We couldn't live like this any longer, but we didn't want to give up on our business either. That's how Metronomics was born.
Since its development, Metronomics has been used by thousands of leaders and organizations. In fact, I wrote an entire book titled "Metronomics" on how to implement this progressive growth system. That's right. I added to the repertoire of business texts meant for leaders like you. It contains all the details—everything you need to know—about the only all-in-one system that consistently works. It also tells the story of a fictional CEO named Alex and how embracing Metronomics allowed Alex to become the successful, impactful CEO he'd always sought to be while putting his company on a trajectory for growth.
I know that as a CEO and a leader, you're extremely busy. You might even be resistant to reading yet another business book in fear it won't give you what you need. That's why I've developed this streamlined resource to give you a taste of what Metronomics can do for you and your business. Throughout, you'll hear from CEOs just like you who have used the system to transform their companies—and their lives!
To fully understand and adopt Metronomics, I recommend you read my full book on the topic. But to begin to grasp what the system can do for your company—and for you—read on. See why Metronomics is worth your time and attention. It's not just an execution system or another partial solution aimed at fixing one issue. It's the complete package: a strategy system married with an execution system connected tightly to the team systems—and it's exactly what you've been searching for.
I Was a Desperate CEO
As you continue in this book, you'll read the stories of CEOs and founders who implemented Metronomics to grow up their businesses and finally achieve what they had for so long sought to achieve. My hope is that in reading these stories, you will see bits of yourself in them and see how this system can help you and your team as well.
But before I introduce you to these highly successful CEOs, I have one important story to share: my own.
Believe it or not, I never saw myself as a Desperate CEO—a term I coined for that place we find ourselves when we've read every book and tried every method and still can't get momentum going in our business. But once I developed Metronomics, I saw that I had been exactly that.
My co-founders and I were in our late teens, late twenties, and thirties when we started our first company, Paradata. We had tons of energy, optimism, and drive to bring a new solution to the world. We couldn't have been more excited about our company's global growth potential.
And while we had all that energy and excitement and investors who believed in our future, we had no idea how to grow the business up. We started putting in extremely long hours, grinding it out, working harder, like it was a badge of honor to save our egos.
But the extra effort didn't pay off. We spent endless hours working only to not achieve the plan we set out to achieve, disappointing our investors and ourselves. It felt like there weren't enough hours in the day. We were killing ourselves, and for what? Our team trained hard; we worked hard, but we were not winning our game.
Like you've probably done from the moment you became a CEO or leader, I started reading the books of all the most respected and renowned business thought leaders. I attended their workshops and conferences like a rock-band groupie. I took in a ridiculous amount of data and information, hoping to find some kind of repeatable system, a silver bullet, that we could implement to start taking full advantage of our opportunity and achieve the goals our investors expected.
I couldn't find it. There was no one system.
Instead, I found great pieces of systems—disparate and siloed frameworks or tools on specific areas of a business: culture, cohesive teams, hiring, strategy, planning, execution, finance, and cash. They were one-and-done tools that only gave us one perspective at a time, not a connected, sustainable system. In my business, it felt like I was constantly saying, "Look over here and fix this. Now look over there and fix that." It was like a crazy game of whack-a-mole.
That was not going to get me and my co-founders the growth we so badly needed for the company and what we had committed to our investors. So after four years, I went to work with my leadership team and coach to create a system that pulled everything together.
I attended a conference where the creator of the Rockefeller Habits, Verne Harnish, was the master of ceremonies. There, I learned about the One Page Strategic Plan.
Every quarter, we dialed in tactical execution more and more—and learned more together. We knew we needed to go beyond the Execution System we created. We learned about Culture, Cohesion, Human, Strategy, Cash, and Coach Cascade Systems to create seven connected systems known as the Compound Growth System, and now often referred to as the Metronomics Repeatable Playbook. This became our practical and efficient way to grow a company.
It wasn't easy, and it wasn't quick. But over time, we started to see the results of the connected, repeatable system we were building, and step by step, things got easier. We were achieving our priorities and metrics on a weekly, monthly, quarterly, and annual basis aligned to where we wanted to go. We had more clarity and direction and made better, faster decisions. This reduced stress and increased the time spent working on the business, not in the business. The team understood the Core Purpose and actually had a connected system to drive measurable team results. We could see business outcomes grow up quarter after quarter. My board of directors was excited about the clarity and results.
I also began to have more personal freedom in my life, which, at the time, I hadn't even been seeking. Once we began implementing this system, I saw how much freedom I could truly have in my life as a CEO, and I realized just how chaotic things had really been for me and my team. As it turned out, balancing business goals and personal goals was an unanticipated outcome of finding the way to success. But looking back, it makes so much sense.
Eventually, it was clear that we were on to something. We now call that something Metronomics.
When we sold our first company, the company that bought it adopted the system we had developed, and it worked well in an even larger business of four hundred people. We validated the system in my second company from day one by growing up over twelve quarters and then selling the company for an exponential valuation based on our first 3HAG.
The sale of our second company was recognized as one of the top three midmarket deals on Wall Street that year by ACG New York. Afterward, I was contacted by a CEO colleague who had observed our success. He congratulated me for selling two companies in less than six years while complaining that he had been slogging it out for over a decade on his first. He asked if I would consider being his coach.
"I watched you grow up and sell two companies at an unheard-of valuation," he said. "I saw that the second was even more valuable than the first. You must have a system, and I want to implement that system with my team to achieve the same success."
Yes! We did have a system. And I would absolutely share it to allow others to achieve their goals.
That's how I went from Desperate CEO to Repeatable System CEO to Metronomics CEO+Leadership team coach. Since then, Metronomics has spread like wildfire because it works. It worked for me. It's worked for the countless CEOs and leadership teams I've coached. It's worked for the seventy-plus Metronomics CEO+Leadership team coaches we have today from all parts of the world and all of their clients as well.
I know it can work for you.
Three Components to Win
Think about any winning team you've ever followed. It could be a sports team or a business team. Perhaps you thought of the Chicago Bulls or Los Angeles Lakers, two professional basketball teams who executed the triangle offense, a strategy masterminded by coach Phil Jackson. Or, in business, Toyota, with its Toyota Production System, or Disney and the Disney Way. Both wildly successful companies and their frameworks have gone on to serve as models for corporations all over the world. In every one of these instances, the winning team has three things: a playbook, a scoreboard, and a coach.
Metronomics is based on the same principles that power those winning teams. At its core, Metronomics is a system that teams—companies—use to win. As such, it is broken into three components that reflect a winning team's formula:
A Repeatable Playbook. This is a repeatable, structured process that actively balances the progression of a highly cohesive team with alignment and commitment to an organizational plan for the whole team.
An Open Playing Field. This is where the team can see each other playing the game, working together, asking for and giving help, and making things happen toward their common team goal. In the business world, this is hard to re-create—especially in our hybrid work environments. We have created a virtual playing field, a Metronomics software platform (www.metronomics.com), that every team member accesses daily to connect to their team and their plan, take ownership of the metrics through what we call "widgets"—which are the non-fiscal things that flow through your business that the team controls—manage priorities, and forecast and track progress. The Open Playing Field allows the whole team to own the strategy, forecast the win and measure results, or "know the score." Knowing the score is key to any team winning the game.
An expert CEO+Leadership team coach. This coach understands the playing field and the system to ensure the team is high performing while remaining connected and aligned to the plan. The coach removes blind spots and unlocks ease, speed, and confidence in the team and the plan to reach your goals sooner.
These three components are fundamental to understanding how Metronomics works for your organization.