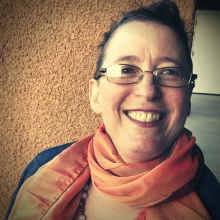 An award-winning novelist, Beth Barany writes science fiction and fantasy for young adults and adults. Her first novel Henrietta The Dragon Slayer won Grand Prize in a California Indie Author contest. 
Based in Oakland, California, with her husband, Ezra Barany, also a novelist, Beth has lived abroad three times — Quebec and twice in Paris, France — and speaks fluent French.
Known for creating rich world, tough and kick-ass heroines, and refreshing romances, Beth creates cinematic stories to empower readers to be the heroes of their own lives.
When she's not penning rip roaring reads, Beth runs an online school for fiction writers, speaks at conferences and international cultural centers, most recently in Saudi Arabia, and enjoys her many dragon figurines sprinkled throughout her house.
For freebies, excerpts, and more about her books, go to Beth's site: author.bethbarany.com.