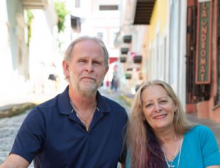 Breakfield is a 25+ year technology expert in security, networking, voice, and anything digital. He enjoys writing, studying World War II history, travel, and cultural exchanges. He's also a fan of wine tastings, winemaking, Harley riding, cooking extravaganzas, and woodworking.
Burkey is a 25+ year applied technology professional who excels at optimizing technology and business investments. She works with customers all over the world focusing on optimized customer experiences. Rox writes white papers and documentation, but found she has a marked preference for writing fiction.
Together these Texas authors create award-winning stories that resonate with young and experienced adults. They bring a fresh new view to technology possibilities today in exciting stories without technology as today's weapon of choice. The Enigma Series currently contains twelve books. In addition, they have published several short stories that contain backstory information on characters in the series. In 2021 they are working to publish a Novella for Out of Poland, three short stories, and a 2nd edition for The Enigma Stolen.
They invite you to visit their website for more information and free stuff. Https://www.EnigmaSeries.com.