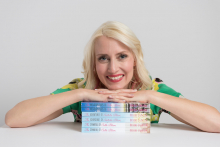 I moved to Manhattan straight out of college because my sister lived there and I could crash on her couch. Six years later (after a quick jaunt in London), I moved to Los Angeles, where I wrote a lifestyle column for the website Examiner.com. When I struggled with pregnancy, I did what I always do, I turned to writing and humor, and created Vagina Vacancy, a blog about the highs and lows of IVF.
Creative writing was always my happy place, but it wasn't until I acquired an NYC lit agent that I realized writing could be a career. Unfortunately, the agent had to step away from publishing for personal reasons and I was left in a quandary. I had a manuscript I loved, but no one to sell it. That's when I joined my local RWA chapter and entered my manuscript into their contest. To my delight, the book received second place.
That was 2015 when indie publishing was on the rise, and my fellow romance authors told me—when done right—it could be lucrative. I was a quick writer and business-minded and it felt like something I could excel at. So I took my award-winning manuscript, hired an editor from one of the top publishing houses, and went to work. The first book was a bestseller and six years later, I've written and published two series and eight books with more on the way.