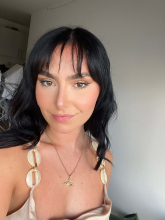 I have undergraduate degree in English and Creative Writing from Manchester Metropolitan University and a MA in Publishing. Story-telling has been embedded into my life from an early age, listening to my parents tell me stories about their lives prompted my interest in the lives of a diverse range of people. Originally I thought my specialty lied within fiction, but I later discovered non-fiction writing was where I excelled. As a result, when I experienced medical trauma and neglect in 2019 I wrote my dissertation about my encounter and I can proudly say I achieved 80%. It followed themes of time, mortality and identity; it also worked brilliantly as a coping mechanism. Since then I have worked to develop this piece titled 'Four White Walls' and hope to add a second part that addresses the consequences of medical trauma, such as PTSD. The point of this piece is to appeal to readers who've had similar experiences and shine a light at the end of tunnel, especially because while I conducted research I only found doctors memoirs. I feel as though patient stories are hugely underrepresented and I could help to bridge the gap. I currently work as a Account Executive in PR agency; I'm loving every minute of it and love that I get to write everyday!
In 2021 I worked with aAH! magazine as part of my MA dissertation to scope and write engaging content, this included writing book reviews and features which focused on matters relating to the theme of 'Freedom.' I believe all the skills and knowledge I have gained the past few years has transformed the way I not only view stories, but also how I write. My style of writing is personal and derives emotion from my own experiences.
I am a very social person and enjoy listening to everyone and anyone! I love hearing about other people's lives, since you should always assume the person you are speaking to knows something you do not. I am confident I have gained valuable skills from my studies and past experiences; I hope to develop these skills (and gain new ones) with guidance from professionals. One of my hobbies is reading, although I enjoy reading many genres, I have a special place in my heart for gothic novels, Dracula is one of my favourite books. I also served as the Digital Content Officer for the The Society of Young Publishers in 2022. Another hobby of mine is exercising, for 12 years I figure skated and occasionally still take lessons; I adore hiking in the Lake District with my family too.