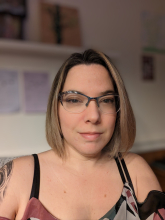 Danielle Paquette-Harvey is an Award-Winning, Amazon International Best Selling author of dark fantasy and steamy paranormal romance. Her books have sold thousands of copies in countries worldwide. Her books include werewolves and vampires, myths and dark prophecies, magic and witches, dragons and fairies, adventure and war, goddesses and demons.
Her books have been translated into French and Italian, and considered for a movie adaptation.
She is a self-published author living on the south shore of Montreal, Canada, with her husband, children, two cats, and an Australian Shepherd.