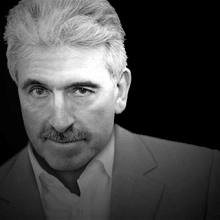 I am Anglo-Irish and have variously been a musician, singer-songwriter, recording artist and in a band supporting acts such as Elton John, Rod Stewart, Gerry Rafferty and many others. I co-wrote a Celtic rock opera for the Edinburgh Festival. As well as this, I have been a journalist, editor and PR consultant and, at one time, edited an international magazine. I have always written because, as author John Braine once said, a writer is a person who writes. It's a compulsion and a joy.
THE COLD LIGHT OF DAY was long-listed for a Crime Writers Association Dagger award and won the first paragraph contest for crime writing at the Penfro Literary Festival. I put in my bottom drawer intending to revise it, which I now have done.
Another thriller was shortlisted for the crime writing contest at the Hastings Literary Festival.
Currently unrepresented, I have been published by HarperCollins and Gollancz and I have self-published and built up a strong mailing list for marketing. But I still have a bottom drawer with unpublished novels, unproduced TV/film scripts, treatments and ideas that I would love to develop, including the first of a YA fantasy trilogy, The Cosmic Algorithm.