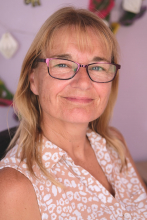 Since 2020 I've been lucky enough to have had two stories make the Page Turner Awards longlist and be a finalist. And to have been chosen as a finalist for a third time is absolutely amazing.
The idea for my latest submission grew from time spent in a local woodland during lockdown and was written while studying for an MA at Bristol University.
Based in Bristol, England, I write stories for 9 to 12 year olds, which, as well as having a sprinkling of magic, are always filled with hope.