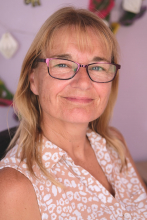 I've changed careers a number of times – from youth work and complementary health to copy-writing and PR. This, and my wonderful grandchildren, have provided much inspiration over the years for stories, and since 2020 I've been lucky to have had two stories make the Page Turner Awards longlist and be a finalist.
The idea for my latest submission grew from time spent in a local woodland during lockdown and was written while studying for an MA at Bristol University. 
Based in Bristol, England, I write stories for 9 to 12 year olds, which, as well as having a sprinkling of magic, are always filled with hope.