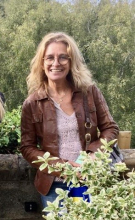 The artful magic of storytelling has been a core fascination of mine since I was a child, so much so that I went on to study both Spanish and French literature (Oxford University 1988).
Post-graduation, my work for a non-governmental organisation had me living in Angola where I was intrigued with cultural difference and the stories people tell. My love and curiosity for this led me to complete a PhD in anthropology (Sussex University 2001). During my ensuing research, I began to explore Cape Verdean people's stories, in both Cape Verde and the diaspora in Portugal.
Currently, I'm a researcher at the Centre for Research in Anthropology at the Nova University of Lisbon focusing on how the law affects migrants' and refugees' power to make decisions in their lives. Most recently I co-edited a book on refugee reception in the Global North.
Fascinated with how language works, and passionate about sharing the beauty of cultural diversity, I regularly venture beyond the confines of academia. In 2012, I co-founded the popular anthropology publishing project PopAnth: Hot Buttered Humanity[1], where I was both a contributing author and sat on the editorial board. I have published two short stories in the Indiana Voice Journal entitled "Seasons" and a "Tale from Inside"[2], and a play in Portuguese (Casa da Esquina/#Ecos 2022). Its title Tapas evokes the pleasures of eating with friends and family in a relaxed environment to address the difficult topic of the stolen babies of Spain.
Under the title of Moon Musings, I publish poems on my website in English, French, Spanish and Portuguese [3], as well as ethnographic poetry [4] in Spanish for the members of the association Sevilla Stolen Babies.
My debut novel, on the magic resilience of women held in prison with their children at the end of the Spanish civil war, is currently looking for a publisher's catalogue to call home.
[1] https://popanth.com
[2] http://www.indianavoicejournal.com/2015/05/elizabeth-challinor-seasons-…
[3] https://elizabeth-challinor.com/poetry
[4] https://elizabeth-challinor.com/project/ojos-abiertos