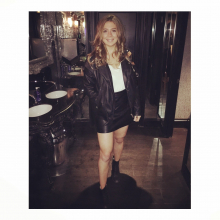 Francesca's love of stories started from a young age - from her father's night time tales of hero crocodiles, talking mice and farmyard bulls with a nervous disposition. He swiftly moved to Tolkein and H.G Wells, stretching her imagination beyond that of her classmates who were still reading Goosebumps and Jacqueline Wilson. This led her to study English A level and furthermore at Univeristy.
Having grown up in North London, Francesca became exposed to pockets of expat communities, with such varying interests and cultures. She came to understand that all around her were people with stories: some of them connected to London's underbelly of organised crime, others with tales of how they came to settle in England, people who had spent time in the military in Cyprus, Israel or Turkey, others having owned casinos and hotels in the 80s. Her brain was a sponge and listening to their life experiences set something in motion. The one thing all these characters had in common was a striking sense of unity.
The Burnt Child is a story about family, loyalty and courage; elements of which Francesca has personally experienced with her own large greek family in Cyprus and the UK. Francesca creates a world for her characters that combines the two and the book takes a dive into the criminal underworld, weaving plots of government conspiracy with two main protagonists who are from very different sides of the law.
Addicted to books that depict strong females with painful amounts of depth or narratives that take her on a unique, emotional journey, Francesca wrote this book because she found herself immersed in worlds and characters of other authors, wondering what it might be like to make someone feel that way about her own work.
Francesca loves books with a good, strong mystery - Karin Slaughter, Gillian Flynn and JP Delaney create dark and twisted worlds that often have her hooked.
The dream is to be published, of course, but regardless of if or how that happens, Francesca plans to continue writing books in the Crime/Thriller fiction genre for as long as she can. Canelo Publishing and Harper Collins both looked at her submission for The Burnt Child but felt they couldn't place it with their next cycle. She was very pleased to have got that far but is not giving up just yet!