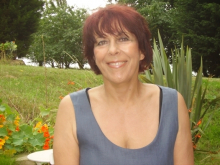 Gillian ('Gill') Mather has been a solicitor for several decades and at various times has worked in most of the basic areas covered by general practice in England (crime, family, employment, civil litigation, wills, probate and property). Gill ran a small solicitor's practice from her home near Colchester until 2020. She is a member of several writers' groups in Essex and Suffolk, and is also a member of Dedham Players. Some of Gill's earlier novels were previously published under the pen name of Julie Langham.
Gill has published seven novels on Kindle, the first five being a series of romantic-cum-crime novels set in Colchester around the same fictional law firm and featuring the same main characters over a number of years. As The Clock Struck Ten is the sixth novel, a crime/mystery which delves into a murky subject frequently in the news in recent years. The seventh novel The Unreliable Placebo is a humorous account of a woman's struggle to come to terms with her sudden single state after her husband leaves her.
A series of six novellas have been published in booklet form for local distribution.
Class of '97 is Gill's eighth full-length novel and is about to be published