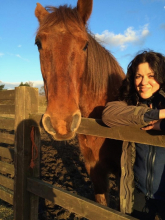 My name is Grace Olson. Many years ago I sent a manuscript to Terry Pratchett and he loved it and gave me some great advice on how to get it published. I had such low self esteem that I never replied and hid the manuscript in a drawer! I regret that to this day. 
I am now writing a series of nostalgic, comical books about my mishaps with horses and I have posted a few episodes on Facebook to see what would happen. Within a couple of weeks I've gained almost 2500 followers and some wonderful comments that have made me cry. People are even writing reviews!
Your Horse magazine is interested in serialising it and an award winning artist has asked to illustrate it. Her work is featured on my Facebook page.
I hope that you enjoy my work.