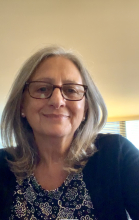 Graciela Kenig is an accomplished writer with extensive experience as a features journalist, online forum contributor and career columnist. Her book, BEST CAREERS FOR BILINGUAL LATINOS, 1998 McGraw-Hill, is still relevant today. Her trajectory in Communications includes Media and Public Relations, Public Speaking, Training and Teaching.
Since her retirement from DePaul University, where she was the director of its Communication Internship Program for 10 years, she has been writing fiction. Along the way, she's honed her skills through courses at UCLA Extension Writer's Program and is an active participant in Shawn Coyne's Story Grid Guild. THE PLANS THEY MADE is her first novel.
Born in Argentina, Graciela is completely bilingual and lives in Chicago with her husband. She has a master's degree in literature from Kent State University in Ohio.