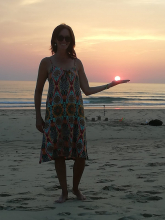 Exploring themes of loneliness, survival and friendship, Glitter and Petals is my debut novel about the topical issue of gaslighting and controlling behaviour in what appears to be a perfectly ordinary relationship. I felt inspired to write about this often invisible type of abuse following a change in the law making controlling or coercive behaviour in a relationship a crime.
Set in the picturesque town of Christchurch, Dorset where I live, I have shared my local knowledge in some of the scenes. I have also drawn upon my own experiences of typical family life and relationships in a pre-internet era.
Working as a bookkeeper, I enjoy swapping the numbers for words in my spare time and when I am not writing, I love to paddle board where I often find the peace and tranquility opens my mind and further inspires my writing.