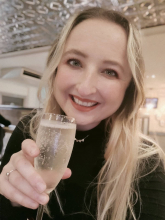 Hayley Louise Macfarlane hails from the very tiny hamlet of Balmaha on the shores of Loch Lomond in Scotland. Having spent eight years studying at the University of Glasgow and graduating with a BSc (Hons) in Genetics and then a PhD in Synthetic Biology, Hayley quickly realised that her long-term passion for writing trumped her desire to work in a laboratory.
Now Hayley spends her time writing across a whole host of genres, particularly fairy tales and psychological horror. During 2019, Hayley set herself the ambitious goal of publishing one thing every month. Seven books, two novellas, two short stories and one box set later, she made it. She recommends that anyone who values their sanity and a sensible sleep cycle does not try this.
Currently she is most widely known for her Amazon best-selling novel Prince of Foxes, which is book one in the Bright Spear trilogy. Her newest romantic fantasy novel, Intended, was published in July.