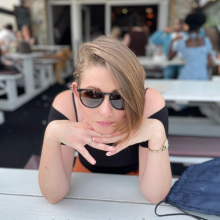 Hayley Lynch is an Irish-born citizen who is living in Dublin, Ireland.
She first got into writing when she attended creative writing classes in her local library.
She went on to pursue a joint major (BA) in English and Art History from University College Dublin (UCD).
During her time at UCD, she took an elective in creative writing where she received a distinction in her overall grades. As practice, she wrote on Wattpad to expand her writing skills.
After UCD, Hayley then moved to Preston in the UK for a year, where she studied a Masters in Publishing. During her year's study, she worked on developing a book as her final project about whales in the Azores. As well as developing the book through the Adobe suite, she also wrote short stories to accompany the factual information. It is not a published book, although it has been finished. 
After the UK, Hayley moved back to Dublin where she went on to work as an editor on the Institute of Public Administration's yearly directory: Ireland, a Directory 2016.
From there on, she joined the Association of Freelance Editor's, Proofreaders and Indexers (AFEPI) of Ireland, where she worked freelance for a few years.
Not long afterwards, she got a full-time job as a digital sub-editor with a news/media company. As well as being the quality controller for the website, both the Irish and UK sites, Hayley wrote articles that contributed towards the content. She has written close to 200 articles. 
Nowadays, Hayley works as a digital content editor, where she manages a large amount of content on a busy and digital-savvy website. 
Hayley remains unpublished in the book world, although has finished writing her debut novel: The Void Beyond the Forest.