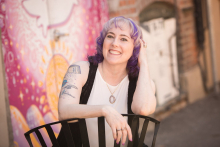 HEATHER LEE DYER is the award-winning author of three complete YA sci-fi series, co-author of a YA alien invasion trilogy, and author of the non-fiction book Creativity Over Perfection: The World Needs Your Book! She also writes for various online magazines such as Medium and Thrive Global. 
She was raised in the mountains of Montana on a hippie commune by a single mother who had top-secret clearance on the Apollo 1 program. She was taught to read and write at an early age to help cope with being an overly active child.
While homeschooling her two boys, Heather realized a need for more YA sci-fi and fantasy series. With encouragement from a few editor friends and the competitive spirit of NaNoWriMo fueling her, she started writing the kind of books that she wanted to read yet felt were missing from bookshelves.
Fangirl of anything YA, sci-fi/fantasy, romance, and paranormal. Geek girl.