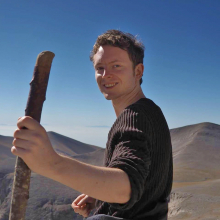 I have no published works, and this is my second foray into novel-writing. I've been a freelance English tutor for the last five years. As all my work is online, I've used the opportunity to travel extensively, and have lived in six different countries since 2016.
I completed a BA in Arabic & Persian at the School of Oriental and African Studies in 2013, during which I had the opportunity to study in Alexandria, Egypt for one year. I went on to do an MA in Theory & Practice of Translation at UCL, and spent 2015 working as a production coordinator for TIMA, a media production company based in London.
THE MOSCOW MULE is set in Muscat, Oman, where I spent five of my teenage years. My time in Oman instilled a passion for Arabic language and culture in me, which was only deepened by my university studies. With this novel, I wanted to tell a compelling, character-based story that portrayed the eccentricity, heart, and occasional darkness of Muscat's expat community.