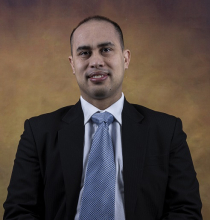 As his surname suggests, Jeffrey MacSporran hails from the wet, yet picturesque countryside which is Scotland.
Jeffrey started writing as an amateur in 2017 as a way of passing the time whilst amusing his God-children or during long stints away from home. His first foray into writing competitions began in 2021 when he entered his completed manuscript for Praetor's Blood: Shattered Peace which after reaching the finalist longlist was published by Global Publishing Solutions in March 2022.
His first novel has been described as "A worthy, engaging fusion of fantasy and dystopian SF" by Kirkus Reviews and received a 5 star review by Reader's Favourite.
Jeffrey comes from a military background and is a graduate of the Law School of the University of Dundee where he holds a degree in Scot's Law.
When not working, he would often be found climbing the hills or behind a desk, painting miniature armies to recreate battlefields of the past and future.
Jeffrey hopes to complete the Praetor Blood series which details the journey of the primary characters, Princess Selesia of Artlars and Field Marshall Archean over the coming years.