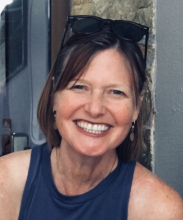 Unexpected journeys are the best kind. In 2018, my husband and I packed up and moved from the US to Spain. We live on a farm bordering the famed Camino De Santiago in Lugo, (Galicia) Spain, where I spend my days writing, painting, and counting pilgrims walking past the gate.
Throughout my life, I have always written. On cocktail napkins, while traveling for work, late at night after my kids went to bed. Mostly short story narrative. But, at the time, I was in the midst of a career and raising a family. And I had no idea what to do with all of it once I had written it. Most days, you can find me hunched over my laptop on the front porch.
While I am currently querying The Grief of Goodbye, my first novel, I haven't stopped writing. For the 2022 Page Turner Awards, I am submitting The Baker of El Mujander for consideration in the Writing Mentorship category. And The Happiness Cafe, also in the Writing Mentorship category. Both are stories set in Spain, a country with a story around every corner.
You won't find me on social media anymore. But you can keep up on my blog www.vivaespanamovingtospain.com