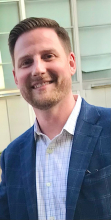 Lucien Elliott spent the better part of the last decade in and out of courtrooms as a practicing criminal defense attorney. A recent career move to an administrative position has allowed him to become a legal professional by day and writer by night. Lucien has loved reading mysteries and thrillers since he was young and changing jobs has allowed him to pursue his long-held ambition to write a debut thriller of his own. The Last Word is the first of what he expects to be many novels to come.  
Growing up the son of a lawyer who was an elected District Attorney and later a judge, Lucien was immersed from a young age in the realm of law and politics.  Many of the characters he writes about draw inspiration from these lifelong experiences as well as his own practice of law.
Lucien is an avid sports fan who loves to travel and explore new places, but he still calls Upstate New York, where he was born and raised, home. He resides with his wife and two wonderful children.