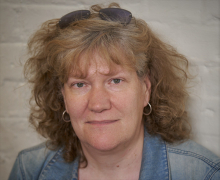 I'm a writer in search of an audience. Looking for an agent, a publisher. Oh, and a film producer too. That'd be nice.
My flash fiction story, BE WITH YOU AGAIN, was a finalist at the West Atlantic Writing Awards in summer 2021. My screenplay, WOODEN HEART, was a finalist at the London International Screenwriting Festival, November 2021. A short film, SMART TV, from a screenplay of mine, was selected for the 2014 Raindance Film Festival.
I work backstage in theatre as a Deputy Stage Manager, and in live events as a show caller. I love my job, but I love writing even more.