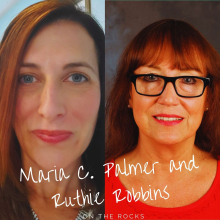 Maria Costanzo Palmer was named as the 2021 Finalist for the Page Turner Awards in the Screenplay Book Adaptation Needed category for On the Rocks. Maria's writing has also been recently recognized by Gov. Phil Murphy, who sent her a personal commendation letter after her Page Turner nomination.
Maria was featured on a cooking class making Ricotta gnocchi on Clubhouse under the Food Is Religion Club, the largest and fastest-growing food affinity group on the app, hailing 6,000 members. Due to the class's success, Maria will now join other well-known influencers in the food and hospitality industry as a co-moderator of a new room debuting in April called ""The Good, Bad, and Ugly of Hospitality." Maria has also been featured on the YaJagoff! Pittsburgh Podcast, a popular regional podcast, 'Cuse Conversations, the Syracuse University alumni podcast hosted by John Boccacino, the Manuscript Academy's Podcast, the award-winning show Positive Changes: A Self-Kick Podcast, a British podcast hosted by author Shelley Knight. She is also the founder of the popular FB fans page @joecostanzoprimadonna, which hosts 30,000 visitors a month seeking recipes, Italian memes, giveaways and a peak at her day-to-day life working in the family restaurant business for many years.
In addition, Maria is a well-known force in the nonprofit world. She has worked on both coasts for organizations that give voice and equity to the marginalized members of society. With a particular soft spot for children with incarcerated parents, Maria has been a prominent voice in the social justice community in California, New York, and New Jersey.
Maria relocated to the New Jersey area after serving as the Director of Get on the Bus, a California-based program that unites children with the parents in prison once a year for a special Mother's/Father's Day visit. Maria credits Get on the Bus for helping her to find her voice. She believed so strongly in this organization that in addition to working for Get on the Bus, she and her husband were volunteers. In 2010, Maria ran the L.A. Marathon and blogged about her training experience, raising close to $10,000 for the organization.
Maria formerly co-hosted a monthly radio show on the Scales of Justice on L.A. Talk Radio and Blog Talk Radio called "Heart to Heart," which had 10,000 listeners. Maria's work was featured in a documentary, she has been quoted in newspapers including the L.A. Times, magazines and a textbook, and has been the guest on radio shows, making her a recognized voice for children of the incarcerated. She has also co-authored academic articles concerning the topic of incarceration and has been a panelist at conferences relating to children with incarcerated parents. For a complete list of media, please visit www.mariacpalmer.com.
Maria is a native of Pittsburgh, PA. She holds a bachelor's degree from Syracuse University in New York and a master's degree in psychology from Pepperdine University. In both 2011 and 2012, she was recognized by Pepperdine University for her service work.
Currently, Maria is the Grant Writer/Development Associate for St. Paul's Community Development Corporation in Paterson, NJ, an agency committed to human self-sufficiency offering over 10,000 individuals in the greater Passaic County area, offering "a hand-up, not a handout." Maria currently lives in New Jersey with her husband Joe, daughters Helena and Josephina, and rescue dogs Luna and Stella.
Ruthie (Dines) Robbins is in her 45th year as an educator. Ruthie was also recognized as the 2021 Finalist for the Page Turner Awards in the Screenplay Book Adaptation Needed category for On the Rocks. After teaching in a large suburban district near Pittsburgh, PA, Ruthie worked in Buffalo, Detroit, Chicago, Boston, and San Antonio for Johns Hopkins School of Education Center for Social Organization of Schools and has also taught in public and private schools in the Buffalo, NY, area. In addition, Ruthie was an organist/choir director for forty-four years. Her career enables her to work with sizable groups of people for years at a time, building strong bonds through which she can appeal to potential readers.
As a writer, Ruthie is perhaps best known as co-author of a popular middle school interdisciplinary unit for Pittsburgh's beloved Kennywood Park. She is currently working on a book about teaching English and Language Arts titled This Is a Playroom; Words Are the Toys, a children's book called Nuttered Boodles, and a fictional romance, Dreams I'll Never See. With degrees from the University of Pittsburgh and Duquesne University, she currently lives in Buffalo, NY.
As of September 2021, On the Rocks is actively on submission. The Booklife Prize had this to say about On the Rocks: "On the Rocks delivers a handful of interesting characters with standout experiences." Both Maria C. Palmer and Ruthie Robbins are represented by Leticia Gomez at Savvy Literary.