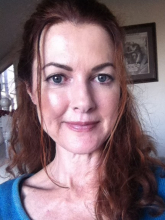 Maria Robins was born in the Scottish heritage town of Dunedin, New Zealand and currently lives in Auckland, NZ. She loves words, writing and books, along with long walks at sunset and all things animal and nature. Growing up in Aotearoa, New Zealand, Land of the Long White Cloud, Maria knew from a very early age that she wanted to be a writer. She wrote her first complex story at age 7, which was 14 pages of A4 lined sheets, complete with numerous little illustrations in the margins. That was the beginning of her love affair with writing and books. Blessed with a mother who would take the family to the local library every week, it was her favourite place as a child, where she could breathe in the wonderful old and new book smell and borrow as many books as she was able to carry. By 10 years old she had an elaborate library system worked out between herself and her sister, for all their books, complete with catalogue listings and borrow cards taped inside the back of each one in hand-made paper pockets.
Her passion for words and writing continued throughout her schooling years and into her adult life but somehow the day to day busy-ness of general life, family and work commitments got in the way and although she had started too many books to count, as time went on, she had never got around to completing or publishing any of them. That was until 2016, when a little book, begging to be shared, came into the world with an important message for humankind. This book compelled her to stop procrastinating and share it with the world, even though it took her another six months to get around to publishing it. Finally, her official author life had begun and since then she has continued on her publishing journey.
In an age of information overwhelm, she writes short, easy-to-read books that anyone of any age can quickly read and easily understand. Her goal is to inspire as many people as possible to believe in the power of having a positive mindset and grateful attitude so that they can enjoy their most joyful and meaningful lives.