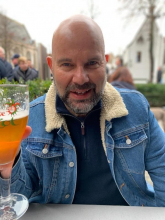 Mark Stibbe published his first book - an anthology of poetry entitled The Drawing out of Days - when he was just 17. Since then, he has been a prolific author and professional writer, with over 50 books published, and countless articles in broadsheet newspapers, journals and magazines. One of his most successful recent books has been Home at Last, offering a faith-based journey of recovery for those who were deeply affected by the trauma of being sent away to boarding school. He has also ghost written over thirty books, of many different genres.
In 2013, Mark migrated from writing nonfiction to fiction and this resulted in the co-authored historical spy thriller The Fate of Kings and his novel, King of Hearts, a raw but redemptive Christmas tale in the tradition of A Christmas Carol and It's a Wonderful Life. In June 2020, as the official storyteller for the award-winning Arokah Puzzle Game, he and Steve Brazier, the inventor of the puzzle, will publish the first in a series of Sci Fi Fantasy novels based around Arokah and starring Khali, an autistic, mixed-race hero. These are aimed at the 9-13 age group. 
Mark runs BookLab with his wife Cherith, a company dedicated to equipping aspiring writers to become great authors. He is a frequent and much in-demand speaker at workshops for writers and conferences in which the subjects of his books are featured. He has often been interviewed on BBC (Radio and TV), Channel 4 and other media, and writes articles for The Times. Having been brought up by an adoptive father who dined fortnightly with CS Lewis, his whole life has been devoted to books and to writing. He lives in Kent, UK, with his wife Cherith and their Black Labrador, Bella.