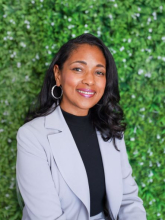 Naomi V. Dunsen-White is a children's author who writes books that represent children of Color. She has a passion for closing the diversity gap that exists in the children's literature industry and believes that ALL children deserve to have books with characters who look a lot like themselves. She is a former educator and foster care specialist who seeks to make a difference in children's lives by writing books that are educational, uplifting and inclusive.
Her two children's books, "Johari The Great" and "Why Am I Here? A Child's Book About Purpose" teach, uplift and inspire children to discover their unique gifts, path and purpose in life. With positive messages about family, community, self-determination, and diversity, the powerful words and moving illustrations motivate children to pursue their goals and look within to discover their greatness.
Naomi believes, "If children see themselves reflected in the books they read, it not only builds their self-esteem and self-image, but may encourage them to reach for books more often." While always hoping to both inspire and teach, she includes reading comprehension questions in her books to enhance understanding and promote family discussion. Naomi lives in Michigan. She is pursuing a series of books to follow her debut title character, Johari.