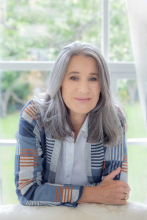 Patricia Donovan began writing adult fiction six years ago and has now written three novels. While these stories cross three genres – from the past to the future with a thriller in between – they share a common thread: a woman's journey and her quest, in the face of obstacles, to find her strengths and happiness, and make her way in the world.
"Our stories show us who we are and my objective, and joy, as a novelist is to explore the human condition."
Patricia is currently working on a trilogy of crime stories. She is a member of the New Zealand Society of Authors and of the New Zealand Writers Guild.
Patricia grew up in New Zealand, and attended the University of Canterbury where she earned an MA (Hons) in English Literature. Since leaving university she has worked in corporate and government communications and is the author of a best practice guide to the profession. She's lived and worked in both Australia and New Zealand and now divides her time between these two countries.
So far, Patricia's novels have been (independently) published only in New Zealand and her writerly heart's desire is an agent or publisher who will help her stories reach a wider, international audience.