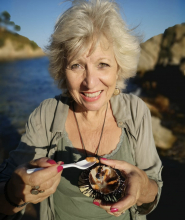 Penny Berlin has had a varied life. She worked for the famous Molton Brown hair salon in London's West End. With this rich experience under her belt she eventually worked on Holland America Cruise ships, visiting The United States, Bermuda, Caribbean, Mexico and Canada. Later spending 30 years in corporate sales, public speaking, project managing, until she brought her young family to live in Northern Spain, Catalunya.
Penny wrote a couple of other books, but then she became passionate about the country she now lives in and after the death of her partner, and after a Rocaberti Writers Retreat in a Castle in Catalonia, the novel ('Forever Catalunya', yet unpublished) was born. A fictional love story with true stories from real local people who suffered during the Franco era. Names and locations have been changed but the essence of the family stories remains the same.
It took a number of years to write as Penny had a movie in her head from day one. However, the traumas which people from this area of Spain have experienced really touched her. As she wrote she was warned by locals that she may be arrested as Spain verses Catalunya is still fragile. People all over the world need to hear what Franco's regime was like, more so now than ever before. Dictatorship is always closer than we think.
Penny wants to make a mark before it's too late. She is still as passionate as ever about what she believes needs to be spoken as there is no room to be complacent. There is a sequel to be written, based in 2017 waiting in the wings.