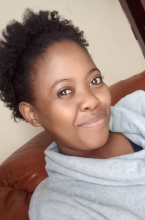 Pulane (Laney) Chaka is a former Journalist at Kingdom Digital News and the former Editor-In-Chief and Publication Designer for Aspiring Authors magazine.
She graduated in 2019 and now holds an Honours Degree in Broadcasting and Journalism.
She began working on the Aspiring Authors magazine after its founder contacted her and told her the goals she had for this magazine. Pulane felt compelled to be apart of this project that would give a voice to those who are marginalized.
Pulane currently works as an online English teacher with the hopes of inspiring other to love reading and writing as her own English teacher did for her.
Her favourite philosophy is "It does not matter how slowly you go as long as you do not stop." She believes that no matter what one wishes to accomplish, the only true failure in that pursuit is not trying or giving up just because things are not working out the way they were 'intended' to.