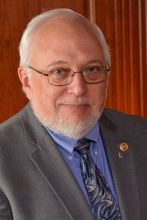 Richard Authier Lee has worked in broadcasting, news writing, media relations and nonprofit management. He holds a degree in Communications from the University of New Hampshire, earned in a previous century.
Over years working around broadcasting transmitters and electronics, he saw the unseen effects of electromagnetic radiation (EMR) beyond simply transmitting radio and television signals. Luminous watch faces spontaneously glow near powerful radio transmitters. Telecommunications technicians suffer burns on their internal organs when microwave horns powered up while they were working on them, though their skin never sensed heat. As a nonprofit CEO in Maine, Lee met a woman who claimed to be an EMR hypersensitive, a person who suffers pain and illness in the presence of radio, television or even household electricity. The germ of his novel, HIGH GROUND, was born.
He researched EMR effects and military weapons development for the backstory of his novel about a worn-out Maine coastal town whose residents despise the reclusive last surviving member of an industrial robber-baron's family. She has become the victim of a new nearby corporate entity that seeks a proof of concept of a breakthrough airborne anti-satellite weapon they are test-firing over the North Atlantic. The armed jets fly directly over the woman's dark, derelict mansion each night as she cowers in terror on the floor of her tin-ceiling kitchen.
Lee is currently at work on a sequel, ARTIFICIAL HORIZON, and a collection of short stories.
He lives in Holyoke, Massachusetts, in the United States with his wife Norma and their beagle, Scout, who remains blithely unaware that he is a dog.