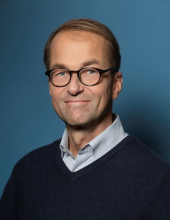 Ragnar Hambraeus...
... graduated with an MSc in engineering. After 25 years as a manager and marketer for various multinational companies, he began writing a book. Maybe this was logical, as he comes from a writing family. His grandfather, Axel, was a priest who wrote more than 30 books. His preaching was not typical of the time, and during Sunday mass he captivated his congregation with his stories. Father Gunnar was editor-in-chief at Sweden's main weekly engineering journal, "Teknisk Tidskrift", and founded its successor "Ny Teknik". In the 1960s, as a hobby, he also commented on space travel and moon landings on TV and radio. So storytelling and communication skills run in the family.
With both feet deep in the soil of the Sweonic heartland, and profound insights into Scandinavian history, Ragnar was drawn to write a historical novel, placing it at a time just prior to the viking age. Of course the story isn't true, but it could just as well have been.
The Swedish edition of Gisle and Geir Ödesväv emerged in 2009. Ragnar thought he was writing for teenagers, and two of his sons formed a test panel. However, the most enthusiastic readers have ultimately proven to be adults of all ages. Since the book was first launched, Ragnar has envisioned an English translation and edition. If viking myths are hot right now, perhaps also proto-viking stories can be? After all, that's when the events the Norsemen told their tales about actually happened. Why not share this treasure in English, so it could be read across more of the world? So, after a first decade only available to Swedish readers, the manuscript has now been translated into English by the author and then proofread and edited by a professional translator with a degree in archaeology.
The result is what you now have before your eyes.
Enjoy!