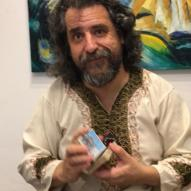 Born in 1968 in Mexico City, Robin has been working on storytelling and the investigation of the paranormal since childhood, and over the years, his storytelling abilities have become a successful writing career.
He graduated from Hillcrest High School in Greenville, South Carolina in 1986 with honors. In 1988, he graduated from the Musicians Institute of Technology in Hollywood, California, earning a diploma in Music and Guitar. He spent two years studying psychology and theater at Valencia Community College in Orlando Florida in 1992 and 1993.
Robin worked with his father in the motion picture distribution business since 1987. Father and son still collaborate in various projects. He moved to Florida and worked as executive assistant to Ilya Salkind, producer of the SUPERMAN movies with Christopher Reeve. In 1998, he moved to Colorado to do a one-year Buddhist retreat at the Crestone Mountain Zen Center under the guidance of Sensei Richard Baker Roshi. Returning to civilization, Robin joined Fries Film Group in 1999 as Director of Development. During his time in Hollywood, Robin wrote over 30 screenplays, he also worked as a ghostwriter, first-draft writer, co-writer, and various other assignments for a variety of production companies.
September 11, 2001, changed Robin's life and life goals forever. Abandoning the need to create fantasy in the dark production offices of Hollywood, Robin moved to Mexico to be closer to his family and work on himself. In CDMX, he works as a guest columnist two times a week for the newspaper "El Nativo de Tejupilco". He is also a continuing guest on the radio show "El Café de la 10" which is broadcast by ADR Networks. He is a freelance card reader and attends a variety of shows and festivals all over CDMX. Robin has written and self-published over thirty books, including: "Robin Kaczmarczyk Tarot", "Las Aventuras de Agua, Hombre Lagarto", and "Lollipop City Stories", and "The Om'Haha Chronicles". He got an honorable mention in the Writers of the Future Short Story Contest with his comedy "Jack Nicholson in Hell".