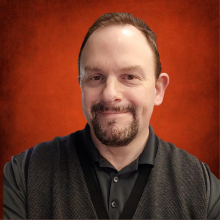 Better known for being an awesome father, devoted husband, impassioned employee, and candidly, being way too impressed with himself; Ron Randall has been in love with words from a very early age.
He whiled away entire seasons exploring the worlds of Tolkien, Donaldson, Kurtz, Eddings, Anthony, Aspirin, Resnick, Silverberg, Harrison and too many more legends of the genre to count. When he first put pen to paper, however, it was creating intelligence studies for the US Government.
When not spending time with his family he enjoys reading, writing, movies, music, travel and the company of those with a quick wit.
He was born in California, raised in Michigan, served his country as an intelligence analyst in the US Army, attended college at San Diego State, and somehow, after all that, found himself a Hoosier, and decided he liked it. Must be something about corn and cows…