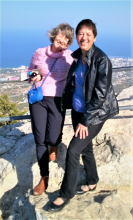 The writers have been friends for many years, but they wanted to create a new name for their first novel.
With surnames of Meloni (Laura) and Onions (Sarah), they thought that sounded more like a veg delivery service, so they came up with S.L. Roman (in homage to Laura's native city).
The idea for the novel came from a true story which surfaced at a former school in Surrey when Sarah taught there – a boy was evacuated from Brighton in WW2 and killed by a bomb soon afterwards. Sarah was a radio and TV journalist and she thought there was a story there.
Research revealed that the boy had bad luck throughout his short life. His tragic story came to light 63 years later when a former evacuee called for his unmarked grave to be given a headstone.
The story's potential became clear and Laura and Sarah set to work.
Both have been teachers at secondary and sixth form level and have an understanding of the mind set of their target readership, early teenage.
They have experience in writing short stories and furthermore, Sarah is a published author – having co-written 'Don't Bring Lulu; Her Family's Tale of Trial and Triumph'.
Laura and Sarah bounced ideas around to make a whole new story, keeping the central tragic boy but developing a range of new characters, often based on real people. The ideas were supported by detailed research into the wartime years of 1939 and 1940.
They mainly wrote together but sometimes they wrote separately – using Zoom in the final stages. The last few pages were written in May 2020, 80 years on from the final year in the life of an unlucky and forgotten boy.
NB if you are interested in reading the completed film script of 'A Forgotten Boy', please email s.m.onions@gmail.com