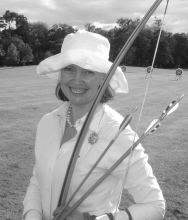 An Anthropology graduate, Sophie Neville nearly killed herself working for BBCTV in London before becoming a horse safari guide in southern Africa, which was more dangerous but gave her some good stories. Two were so extraordinary that she set up Witness Films Ltd in order to develop them as screenplays.
Sophie began writing as a child, keeping a diary when she starred as 'Titty' in the 1974 movie 'Swallows and Amazons'. This was eventually incorporated into 'The Secrets of Filming Swallows & Amazons'. The multi-media ebook became a bestseller on Amazon and attracted so much publicity that she was commissioned to write 'The Making of Swallows and Amazons', now published by The Lutterworth Press. She has since contributed to three anthologies and has brought out two humorous memoirs: 'Ride the Wings of Morning' and 'Funnily Enough', which hit #1 in Humour on Kindle UK and was serialised in iBelieve magazine.
As President of The Arthur Ransome Society from 2013-2019, Sophie spoke at literary festivals and on BBC Radio, wrote Forewords for four books including 'Swallowdale' by Arthur Ransome, and nearly capsized on ITV News at Ten. While at the BBC, she worked on drama serials such 'Eastenders' and 'Doctor Who', directing her first documentary for Channel 4 when driving from London to Johannesburg. After producing an 'Inset' series and writing a few of her own programmes, she set up a 'Blue Peter' exploration of South Africa and worked freelance for the BBC Natural History Unit in Botswana and Namibia.
Now aged 61, Sophie's aim is to bring out a series of amusing novels based on true stories from Africa where she lived for many years. She has a number of literary events in the pipeline and keeps a popular blog. For full details of writing awards and books, please see: https://sophieneville.net/writing-portfolio/