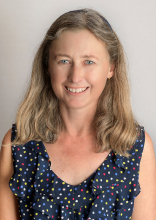 Susea Spray and her husband don't have a brick - and - mortar house. Instead, their homes are two old ocean - going sailing boats.
After four years spent preparing their own big blue boat, they departed Adelaide, South Australia in 2013. In her, they have sailed three oceans, seen amazing animals, and visited incredible places. The real big blue boat now lives in Europe. Northern hemisphere summers find them continuing their journey through the rivers and canals of Europe.
A retired classroom teacher and professional photographer, the sailing journey has been the catalyst enabling Susea to at last finding her writing voice for children.
An avid reader who has always written in one form or another, Susea is now sharing her love of language and sea with young and old through the eyes of a Big Blue Boat and a young girl, the Captain. Her first book, 'A Big Blue Boat', is a cumulative tale introducing the two. A sequel is well under way and many more stories are in the stewing pot, just waiting to burst forth.
In her spare time, Susea also loves to research, cook, photograph, quilt, walk and work on her sailing blog.