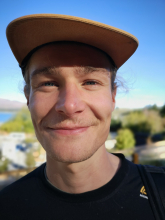 Sven Straumann is a scientist and neurosurgeon-in-training, and a writer at heart.
He studied medicine in Switzerland and lives in the Netherlands, where he is writing his doctoral thesis on brain physiology and epilepsy. Sven is trained in professional scientific writing and won the annual Karger Award for his master's thesis in 2018 (Karger Publishers).
Sven shares the sorrow and relief of the patients and relatives he sees in the emergency room. The life stories he accompanies and shares from the door to the operating table (and sometimes never back again) move him deeply.
In his debut novel Gravitas, he strives to draw on his experiences as both a medical doctor and scientist to paint the story of four characters in an immersive and believable distant future. He also writes short stories and essays.