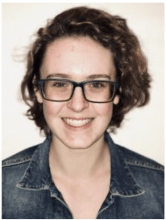 I am a long-time writer and yet-to-be author and I spend more of my time time thinking about fictional worlds than real ones. I've been telling stories since I learned to talk and writing since I could hold a pencil.
I write almost exclusively YA fiction, with the odd poem thrown in for fun. The genres I enjoy writing the most are speculative, sci-fi, and fantasy.
My future goals include: making people throw books - preferably my books - across the room and writing diverse, inclusive characters. As both a lesbian woman and an autistic one, I know how important it is to see yourself in the media you consume, and how isolating it can be when you don't. I aspire to write books that make queer and neurodivergent teens and young adults feel seen.
When I'm not writing or reading, I spend my time dancing, practicing karate, and thinking about how I should probably be writing instead of watching YouTube.