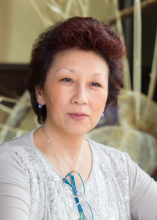 I was born in Japan, but received all of my formal education in the U.S., graduating with an Applied Piano degree from the Oberlin Conservatory of Music.
I have spent most of my adult life in Tokyo, Japan--working as an interpreter for clients as diverse as condom manufacturers to diplomats to the Foreign Correspondents' Club of Japan. I have also spent years studying history and struggling to write a historical fiction / magic realism novel set in Japan, "The Three Arrows".
Being isolated from an English-speaking/writing community, however, it was not until the pandemic began (and I discovered Zoom!) that I have been able to connect with writers and writing classes all over the world. Although I am working primarily on my novel, I was fortunate enough to win a short story competition (the Tom Howard/Margaret Reid Poetry Contest 2021).