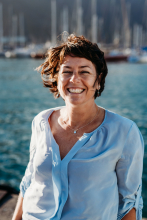 'The Pangolin Killers' is a children's adventure story themed on illegal trafficking of African animals, traditional medicinal beliefs, and wet markets. It is the first in a planned 'Into Africa' series.
Tanja Wijnen is Danish. She has worked in England as a trademark lawyer, in Egypt and Uganda as a human rights lawyer and eventually in the corporate world in South Africa. The magic of Africa has kept her in Cape Town ever since. She lives there with her Dutch husband and three children, two dogs and a cat.
Tanja's work trips into Africa are a constant source of writing inspiration. The Pangolin Killers is inspired by Congolese colleagues, who introduced her to African herbs, so she could attract a husband (it worked!). Much research has since gone into writing the story. Tanja wants to bring the diverse and colourful African continent onto kids' bookshelves with entertainment and action stories based on real topics.
Tanja has taken several creative writing courses. 'The Pangolin Killers' is her first book. It was self-published on Amazon and she has since signed an author contract with Wadskjaer Publishing, Denmark who will publish the book in Danish in 2023. Tanja is hoping to market the book further in the English speaking world.