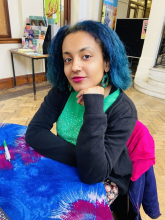 Zarina Macha is an author, blogger, and musician born and raised in London, UK. She studied Songwriting and Creative Artistry at The Academy of Contemporary Music (ACM) in Guildford. She regularly writes a social commentary blog titled 'The Zarina Macha Blog.' In her spare time, she loves reading and annoying people about Game of Thrones (yes, she adored the much-hated ending).
In 2018 she began independently publishing her books through Amazon's Kindle Direct Publishing platform. "Every Last Psycho", "Anne", and "Around Midnight" are her young-adult fiction novels that deal with mental illness, drug abuse, domestic violence and coming-of-age. "Art is a Waste of Time" and "Single Broke Female" are her two poetry books.
In 2021 she embarked on writing romance under the pen name Diana Vale. Her Kirk University series is a new adult romance series that follows various students who find love at university. A different couple is featured each time, with some recurring characters. The eponymous university is based on the real-life University of York in northern England where Macha briefly attended prior to ACM.
On top of that, she enjoys writing about herself in third person. Visit her AuthorTube channel for upbeat videos about her literary process: https://www.youtube.com/c/ZarinaMachaAuthor