Book Cover Image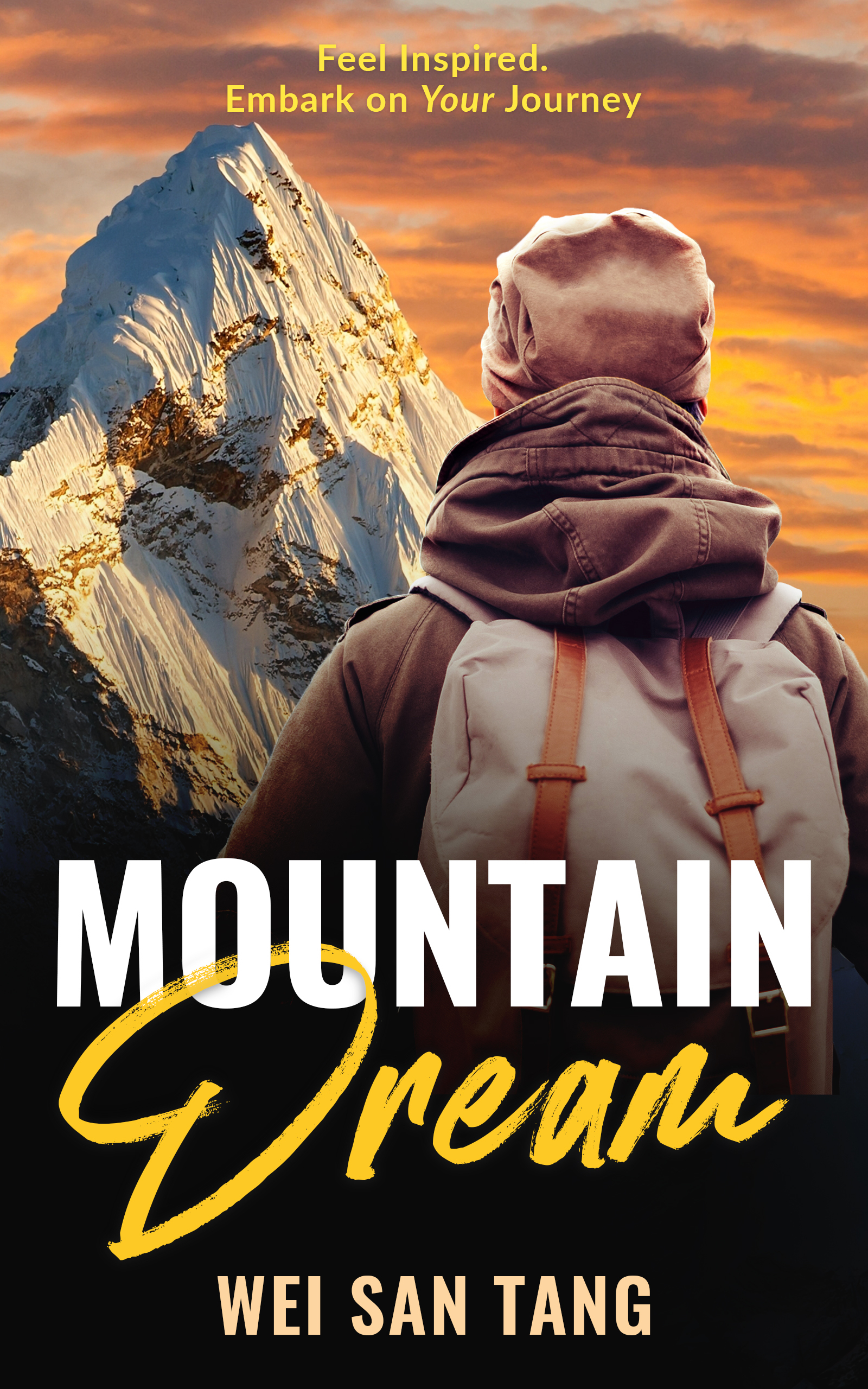 Logline or Premise
Many did fundraising hikes to Everest Base Camp, but few publish a book about their experience. Wei San did both. Both of the experience taught her life's lessons. "Things do not always turn out the way I plan, but my attitude can make a difference." This is the story she would like to share.

First 10 Pages
Introduction—A Normal Person and a Dreamer
Every great dream begins with a dreamer. Always remember, you have within you the strength, the patience, and the passion to reach for the stars to change the world.—Harriet Tubman
My name is Wei San—and I had a wild dream. I said to myself, "One day, I want to trek to Everest Base Camp". And I did it.
Now, let's just stop here because there's something we need to clear up immediately: when you think of the people who go to Nepal to summit Everest or trek the trails around Everest—what kind of person do you envision? What are your assumptions?
Perhaps one of your assumptions is that's something only wealthy people can do. Not just because of travel and gear costs, simply because doing those excursions are so coveted and the number of places open is so few relative to the demand, that it is very expensive to buy a place on one of the excursions.
Perhaps you've also heard of how difficult and dangerous Everest-related excursions are, due to altitude and weather, and whatnot. This leads to another assumption: the people doing it aren't just wealthy, but also very fit. Strong, long-time, ambitious, hardcore fitness and outdoors people.
If you hold these assumptions around Everest trekkers, then you probably assume I must be someone with a lot of disposable income, lots of time to train and travel, and I must be a long-time fitness devotee. A gifted athlete who is a natural when it comes to most anything physical.
Let's meet the real Wei San, shall we? I grew up in a middle-class family in Malaysia. I'm the youngest and the only daughter in my family (I have two older brothers). As I stepped into my adult life, I entered into the full-time workforce, similar to most people. Activities that I involve myself in include playing the flute in a community band, volunteering, and I love to read books. Other than participating in the little kids swim team for a year in primary school—and not swimming so well!—I've not done any organised athletics in my life. I did start walking at my father's encouragement when I was a kid, and I started to take it more seriously when I was in my early 20s. You'll read about this. The income I make from my work is what I live on. As I want to travel and see other parts of the world too, I plan around what I am capable of.
Even with this normal background, in 2017, when the universe presented me with an opportunity to take part in a fundraising trek to Everest Base Camp, I chose to say, "Yes!" At that point, I didn't know how I'd be able to pull it off, in terms of training, money, time, and important factors like that. With a lot of help from a lot of people and a year of preparation, I did it. I trekked to Everest Base Camp.
I've written this book because I want others, like you, to see from my example the awesome power of deciding on a big dream and putting in the effort to pursue it. I have a longtime personal mission to spread positive energy in our world, and as I see it, when we break our mould of automated living and dare to decide on a dream and then take action to pursue it, we create positivity, vibrancy, and passion in ourselves that then spreads to others. We make others and the world a better place.
In this book, I present my journey of discovery. In this journey you'll read about an ordinary person—me—who is contending with ordinary obstacles. Like fear of leaving my comfort zone. Fear of failure. Fear of getting rejected by others. Fear that my own body will not be strong enough. Even with all these obstacles coming at me, I managed to decide on a dream—
a dream that for so many reasons suggested I wasn't the type to achieve it—and by leveraging the trust that others have in me to make it happen, I took action. It took over a year of action for me to finally make it to Nepal. And then the trek itself required even more action, even more negative barriers and obstacles coming at me to contend with in order to achieve my goal.
An ordinary person who dares to live a vibrant life, who dares to dream and work through the many obstacles that ordinary people face to pursue their dreams—that's this story. The result: I am creating a life that is meaningful, satisfying, and one where I see possibility, for myself and others, all around me.
Surely, you are not different from me. Surely, if I am able to do it, dream big and achieve it, then so can you! I love to read and listen to incredible stories of ordinary people who turn their dream to reality. Those stories inspire me and give me the gift of courage to follow suit. Through this book, I hope to provide you with similar inspiration and boldness. I would like to help you to awake the sleeping dream inside yourself.
Let's spread positivity in our world, starting with ourselves. That means—embracing and espousing our own "Yes, I can!" attitude.
Part I. Life Experiences—My Teachers That Take Me Closer to My Dreams
1. All Because of My Father, the Great Mentor in My Life
All our dreams can come true, if we have the courage to pursue them.—Walt Disney
It all began with my first successful summit of a mountain peak. For me, that was Mount Kinabalu in Sabah, Malaysia. At 4,095 metres, it is the highest peak in Borneo's Crocker Range, and it is also the highest peak in Malaysia, where I was born.
To be clear, trekking isn't an activity that I'm naturally drawn to. It's not something that I've always enjoyed. In fact, for much of my life, doing long walks, and particularly long walks uphill and downhill, I've not enjoyed at all. However, something I did correlate was doing a long trek and having a nice dinner out afterwards as a reward. Yes, I love great food! Sure, it might not be the best motivator, but at least in the beginning, when I started, it kept me at it long enough to actually grow an interest in trekking itself.
Over time, I've found many reasons that motivate me beyond the great food reward. First, is the satisfaction of completing each trek. The beginning is tough, but I know that when I keep going, one step at a time, I will get there. Also, when I stand at a peak, having a bird's eye view, savouring the moment, that motivates me. Finally, knowing that by putting in effort upfront, I will be able to enjoy the fruits when the time comes—that's a big motivator.
The whole reason I ever dared climb Mount Kinabalu was all because of my father. Let me backtrack a bit to explain. I come from a close family that resided in Johor Bahru in West (or Peninsular) Malaysia. For work, my father ended up moving to Sabah in East Malaysia. For those of you who don't know the geography of Malaysia, there are two major parts to the country, Peninsular Malaysia to the west and East Malaysia to the east. They are separated by the South China Sea. So, my father's work that moved him to Sabah in East Malaysia was a big deal. My mother decided to move with him, seeing as Sabah was far away and in a place where we didn't have family ties. As for me and my brothers, they were already adults and living on their own, but I was still in secondary school. I wanted to stay in Johor Bahru where I'd grown up and finish secondary and high school there though my parents would be in East Malaysia. And this is what I did. Upon graduating from high school, I ended up moving to Sabah to study at the University of Sabah in Kota Kinabalu. However, by that time, Dad had already retired, and both my parents were back in Johor Bahru. So as a university student I was in, what was for me, very new territory.
Of course, like we all do, I have wondered if I would've followed a better path if I hadn't chosen to go to Sabah for university. But, there's no point to these musings. No matter what, my decision to go to Sabah has shaped many great outcomes for my life. For example, towards the end of my first year in university, Dad suggested we attempt the climb to Mount Kinabalu summit. The adventurous side of me shouted a big and loud, "Yes!" And so, a first important life dream was born for me: summiting Mount Kinabalu.
After the decision, I started to plan my training. The university campus was big enough to serve as a good training ground. The school provided us with shuttle buses to move between lecture halls and student housing. The first thing that came to my mind—skip the shuttle bus and walk. My dormitory was at the top of a short hill. There was a long staircase to ascend every time I wanted to return to my dorm. Also, I had friends who stayed in the lower area of campus, so that made an even longer walk to visit them and return to my dorm. For about two months, I trained in this way, all the while studying for exams and eagerly anticipating the trek.
Once exams finished, Dad flew from Johor Bahru to Kota Kinabalu, the day before our adventure. Waking in the morning, the day Dad came to pick me up, with my luggage packed, I felt feverish. "Am I really ready for this?" I wondered. I talked myself out of my anxiety, "It's okay, we have a couple of days before we attempt the climb. Don't get disheartened, focus on resting before the big day".
In the end, I got over my anxiety and fear. While I may not have realised it at the time, there were some key things that helped me to not give up. I had a very strong desire to attempt the climb. It was a challenge, and I like challenges too. Also, I knew that by doing it, by summiting a peak like this, it would take me to the next level in terms of my fitness and the possibilities and goals I could make in regard to trekking. And, I would like to honour the level of confidence Dad had in me. He showed that when he made the suggestion in the first place. Last on the list, also a powerful one, was my excitement to attempt the climb with Dad. I knew it would be one of those father-and-daughter moments that we would remember forever.
The day we arrived at the Kinabalu Park Headquarters, the base of the mountain, we found out there were no vacancies at the Laban Rata Resthouse. A bit of background, elevated at 3,270 metres, Laban Rata is the place where climbers typically spend the night after ascending from the base and before ascending to the peak, which normally happens early in the morning. So, it's a place for resting before summiting. And because there is a daily limit to the number of permits issued for climbing, a sleeping space at Laban Rata is tied closely with that. No permit, no climb.
The reservation clerk told us we could be on the waiting list, as sometimes there were cancellations and the permit could be reissued to those on the waiting list. We took his suggestion. We thought we could make use of the waiting days to explore and do shorter treks before the big ascent. We felt optimistic about our chances of landing a sleeping space at the Laban Rata Resthouse. It wasn't the climbing season after all.
That day, we checked into our room at a lodge at the base and had an early rest. The next day, we had an early breakfast, followed by a walk. We were exploring the park when Dad's mobile rang. My hope came true: there was a cancellation and two sleeping spaces were available at Laban Rata. So we would be issued with the climb permits that day. It was about 10 am when we got this news. Without wasting much time, we headed straight back to rearrange our backpacks for the climb from the base where we were at, up to the resthouse. I was super excited and felt so blessed with our luck.
It was around noon when we started our climb at the Timpohon Gate (1,866 metres) up to Laban Rata (3,270 metres). What I remember of the walk was a lot of uphills. It was an ascent, so, of course, this makes sense! The start didn't feel easy, especially because we were starting later than the usual early-morning start time and both of us had already used up our early-morning energy. This meant the climb felt particularly difficult.
At some point, I experienced an internal conflict. One voice asked, "Why did you bring us here to go through this?" Then my other voice fought back, "Don't listen to her. Come on, don't give up! One step at a time. No-one said this was going to be easy. It takes courage to be here. You are courageous, Tang Wei San! Trust yourself! The reward awaiting is worth the effort. This is a challenge that we committed to, and let's do it—no matter how!"
I always admired Dad's wisdom. "Always be prepared and do whatever you can to remove any possible distractions"—one of the many pearls of wisdom I learnt from him. Something that gave me encouragement on this mountain-ascent trek, was that we'd already decided to hire a porter to carry our backpacks for us. The backpacks carried the essential things that we needed for the climb and for our stay at Laban Rata. So we were carrying very little weight, really just our drinking water. That made things easier.
With much determination, we reached the Laban Rata Resthouse at about 7 pm. The kitchen was closing by the time we arrived, and most of the other climbers were resting by that time. According to the itinerary, the summit the following day would start at 2.30 am. That was to allow enough time to reach the summit and witness the sunrise. Our guide and porter were thoughtful. They knew we were hungry and needed dinner, not only for that night but also to keep us going the next day. They spoke to the kitchen staff who offered to cook fried rice for us. Even asking if that would be alright for us.
"What? Of course, that's more than alright", I thought to myself in this heart-warming moment.
We finished our dinner quickly as we did not want to hold up the staff. Then with sincere thanks, we said good night to everyone. That night, I drifted into the land of sleep with a heart of gratitude, so thankful we were able to make it this far.
Early morning the next day, I woke up before the alarm went off because I was so eager to get started. I was feeling fresh and excited as well. While brushing my teeth, I was imagining how it would feel to be at the peak. Something I'd been envisioning since I'd decided to do this trek several months earlier.
It was pitch dark out when we started our journey. Although we had our headlamps, I could not see much, only what fell in the scope of the light. So I followed very closely behind our guide. Dad was behind me, and our porter was last. It was a steep ascending trail. We were expecting an increase of elevation of 800 metres to the summit. There were steps, many steps that we were walking up. I was sweating heavily, but I couldn't take off a layer as it was actually cold out, especially with the wind blowing. The steps also challenged my breathing because the air got thinner, the higher we climbed. I also remember there was a tricky part where we needed to make use of a rope to pull ourselves up a very steep section. This really stretched my body.
As we went higher, the vegetation reduced to bushes and eventually we were climbing across a bare granite rockface. There was a thick white rope that trailed all the way to the summit. At first, I wasn't sure what it was for, and I didn't have the extra capacity in my brain to process it. Later on, I came to know that the rope was to help climbers to not lose their way to the summit in the dark. What a brilliant idea, I thought. As I climbed the final section across the open rockface towards the summit, the surrounding skyline lit up with the sun slowly rising.
We reached the summit in time to witness one of the most majestic sunrises I've viewed in my life. The dark surrounding us slowly gave way to the yellow sun. As the sun lit up the entire mountain area, a breathtaking 360-degree view from the peak revealed itself. How different from standing at the peak of the small hill back in our hometown! I could clearly see the uniqueness of the rocky landscape that made up the many nearby peaks. At that moment, I felt like I was in the heavens with the morning fog covering some of the area before the sun touched it. Standing at the summit with Dad on that day was a special moment. It has been 16 years since we did the climb, and that moment still stands very clearly in my mind.
There was a sign at the summit for people to take photos with. You know, "we were here" kind of photos. We joined the short queue to get a photo with our amazing guide and porter. When it was our turn, I passed the camera to another climber who was happy to take the photo of us. As we were posing, the guy shouted, "The camera shut down by itself!" "Err …" I thought. It turned out that I'd forgotten to charge the battery the night before, and the battery had gone dead. So, we ended up at the summit with no photo. Even so, that in itself remains a firm memory.
We took the time to enjoy the peaceful moment at the peak without any photos, but not for long. As our bodies started to cool down from the trek up, I actually felt very cold. Dangerously so, as it was sub-zero temperatures at the summit. That's when we decided it was time to make our way down to Laban Rata.
Now, descending in the daytime, I could actually see the route we'd taken on our way up. Wow! It actually looked a bit scary—the downward trail with the same white rope that had guided us on our way up. "Did we go up on this same route?" I wondered. Although I had that doubt for a couple of seconds, apparently it was the same route. I had to shake away the thought of possibly missing a step and becoming a giant ball rolling down the rockface. That would not be fun. At all.
As it was just me and Dad, we took our time walking the descent, and this gave me a little bit of room to process our surroundings. With the rocky surface around the summit behind us, what slowly came into view as we descended was mountain vegetation and the many steps, almost like a grand staircase. At one point, I saw tiny villages far down below us. Only then did I grasp the reality of exactly how high up we were on the trail. Everything beneath looked so small, and yet we were even smaller in the eyes of Mother Nature.
As it is natural to want to move faster because it is easier walking downhill, I had to be careful to maintain my focus. I didn't want to move fast and end up slipping and injuring myself. The way I did it was remembering what my father always said as we trekked smaller hills together: never lose sight of the importance of finishing the trek safely. If we want to be able to do it again and again, then we have to learn to celebrate at the bottom, not just at the top. With that, I asked myself not to get overconfident just because I'd reached the top of the mountain. I reminded myself, "This is not the finish yet, not until I reach the base". As the descending puts a lot of pressure on the knees too, I made use of that to be careful, stay focused, and watch every step.
We made it back to the Timpohon Gate tired and yet satisfied. A great sense of achievement filled me. We'd aimed to reach the top in a safe way, we'd also aimed to reach the base in a safe way—and we did it! Dad also emphasised that this was not only applicable to climbing but also to many things in life.
For the next week or so, we both had sore legs. I remembered I was doing my best not to bend my knees when I went up or down stairs for that next week. And poor Dad who still had to drive us as we began a road trip right after our climbing adventure. It was a manual car that we had rented, so you can imagine the exertion it required from his tired and sore legs.
Second Time Around
Mount Kinabalu is the jewel of Sabah. It's Malaysia's highest peak and is famous for its beauty. The granite peaks are often surrounded by clouds, which adds a layer of mystery to its hidden face. Then on the rare clear day, the summit reveals itself: a smooth granite dome with distinct glacier-carved pinnacles rising from it.
According to popular folklore, the name "Kinabalu" originally came from "Cina Balu", which translates into "Chinese widow". Legend tells a story of a prince from China who ascended the mountain in search of a precious pearl. He then married a Kadazan (Sabah's largest ethnic group) woman but soon abandoned her and returned to China. His heartbroken wife wandered into the mountains to mourn and eventually turned into stone, becoming Mount Kinabalu. It's a sad story, but I felt it adds to the mysterious and elevated feeling you get from the mountain.
Mountain lovers definitely put Mount Kinabalu on their bucket list. But even people who aren't regular hikers like to give it a go, as it is considered one of the safest and most doable peaks in the world. The latter was the case for my friends. You see, when I returned to university the following school year, invigorated by the climbing experience, I organised a climbing expedition for me and my friends. It actually started with a casual conversation that morphed into serious planning.
Organising was not so difficult since I knew the details from my previous trip. But I exercised extra effort to ensure the best experience possible for everyone. This is something I learnt from my parents and put it into practise. Having observed how well my parents look after visitors to our home, I followed what I saw them do. After we decided how many of us would be going, I rented a car and drove to the Kinabalu Park Headquarters over a weekend with two of my friends. They were joining the climb too. That very same day, we secured the climbing permits and sleeping places at Laban Rata, booked a van to transport us from our campus to the park, and booked a place to stay at the park the day before our climb. Having learnt from my previous experience, I convinced the group to spend an extra night at the park before the climb the next day as that would help us to start fresh. And although I found out after our trip, all the arrangements could have been done over the phone or by visiting the representative office at Kota Kinabalu, the additional trip to the Kinabalu Park Headquarters wasn't a waste, as at least I knew for sure, every important item was taken care of. My friends and I also had a good time exploring the park itself over that weekend trip. In life, additional efforts typically bring joy.
Due to my previous experience, it was an easier climb for me this second time. Before the trip, I took the time to reflect and honour my struggles during the first climb. I noticed what worked and what didn't. It was a powerful self-reflecting exercise. For example, I realised that my father and I had walked at a faster pace due to time limits, and we'd taken fewer but longer breaks. The second time, I reminded myself to use a different approach during the climb. I did the opposite. I moved at a slower but consistent pace. I also had quick water breaks more often. I didn't wait for my body to signal me to drink through thirst before reaching for my water bottle. The quick water breaks also helped me to get starting again more easily as my body had not cooled down that much. It's very much like a machine that needed to keep the momentum going. And, of course, I encouraged everyone in the group to do these same strategies.
Also, unlike what I'd done with my father, this time we ascended via the Mesilau Gate. It was a longer winding route up to arrive at the Laban Rata Resthouse, but because it was less steep than the path from the Timpohon Gate, it was easier. Of course, my friends, who were doing the hike for the first time, didn't know this, but I was aware of it.
Even with these changes to make it an easier and better trek, we had a different challenge this time. The weather was a bit wet. The on-and-off rain added challenges to the climb for the entire group. Some sections of the trail became slippery although I was grateful that everyone seems to be well-prepared with a pair of solid hiking shoes, including me. We all tried to make sure the important things like cameras, mobile phones, and our documents were well-protected from the rain.
Then I was wondering to myself, "If the rain continues, will we be able to proceed with summiting?" The rocky surface around the top, from what I remembered, would make the entire climb very challenging. Anyhow, there was no point thinking too much about this potential issue until the time came, I figured. The rain also lowered the temperature, and the fog became very dense, which impacted visibility in some sections. Nevertheless, it is always the rule that all climbers must hire a guide to walk in this park, and we had two, one guiding us at the front and another at the back. So we would be alright.
Even still, everyone was in high spirits. We took lots of photos (thank goodness we have photos this time!). We all made it to the Laban Rata Resthouse with plenty of time for exploration before dinner. How different the experience turned out than how it had played out for my father and me! I guess that's the wonder of an adventure.
Unfortunately, the next morning, one of my friends was not at her best. She decided not to continue to the summit. Most people would have pressed on, especially at this point where we'd come so far. But I actually admired my friend's courage for knowing herself and her needs, and raising a white flag. Her partner at the time decided to stay back with her as well. This all was decided in just a few minutes in the early morning before we left for the sunrise summit climb. The decision made by this couple touched me.
The rest of us pressed on, and we made it to the top. For me, reaching the peak this second time was a bit different. "Wow, I did it again! What's the next possibility for me?" I found myself wondering. Little did I know at that time, but later the universe would answer my question with a very big call.
I noticed that my greatest sense of achievement on this second climb of Mount Kinabalu wasn't because I made it to the top again. Instead, it came from organising and leading the "expedition". Fulfilling my role as leader was very satisfying.
Someone asked me, "Why did you climb it for a second time?" While many people might take it as something to tick off the bucket list after reaching the top and move on to look for the next item on the list, I looked at it differently. As human beings, we continue to look to challenge ourselves and take ourselves to the next level. But, it's not a competition with others. As I see it, it's more about bettering ourselves. I believe that's how we grow, and that's why I chose to climb it for the second time. The second time, I not only hiked it better, with more confidence, and practically zero worry about whether I could make it, I also did the organising to ensure my friends could experience the wonder and awe of the climb. In this way, it was a very different experience the second time. One in which I was able to better myself in a lot of different ways, mostly be putting in the effort to open the opportunity for dear friends.
Every time we move one step forward, we are one step closer to the level of excellence that we are aiming for. To give some perspective, I was in passive mode during the first climb. Dad initiated the climb and did all the organising, and I responded to it. It was a valuable experience even being passive. The second time, I switched to active mode. I initiated and organised the experience, not just for myself but for my friends too. I knew I would grow from it, and at the same time I also wanted to see how far I could take myself to help others extend themselves and experience the awe of a challenging and glorious experience.
Remember the question I asked myself while I was at the summit—"What's the next possibility for me?"—? A few years after my graduation from university, the universe presented me with an article about trekking in Nepal. Inspired by the article, I decided to add "trekking in Nepal" to my bucket list. While I didn't have any details on what this "trekking in Nepal" could mean, it gave me an overall direction to dream about—which, sometimes, is all you need!
2. Blessings That Are Harder to See
I will love the light for it shows me the way, yet I will endure the darkness for it shows me the stars.—Og Mandino
I was born into a very good family that formed a solid foundation that shaped who I am today. I am always glad that I've never taken that for granted. Our family has long operated under a powerful principle, one that I still turn to: "Make a conscious decision to see the positivity from every event". I am always on the lookout for what I can learn. Every experience is a teacher, but I don't pretend all can be overcome easily, without any effort.
Cancer is a monstrous word. In the year 2000, my mother was diagnosed with cancer. She was 45. I was 16. At school, I was my usual self. I didn't want to talk about Mum's illness. While with the family, I asked myself not to add on any unnecessary burden by expressing my worries and sadness. It wasn't that I was super strong or that I knew how to handle the situation well by nature. I simply saw it as the best way that I could help my family. At a young age, I learnt that when something happens that I can't change, what I can do is choose my reaction. That's where my choice lies. And I can choose to react in a way that should help the situation.
If I told you that when my mother had cancer, that I wasn't scared, that it was easy to react in a way that helped the situation, or that it was not a struggle to "see the positive out of it", then I would be telling a big lie. But the positive did come … eventually. The thing I was able to ask myself to do was, no matter what, I'd be calm. I would do my best to keep a positive attitude.
At the same time, I acknowledged to myself that I had fear and I couldn't run away from it. The fear I had was around time—how much time did Mum have? Of course, I know that every one of us will come across the path of death at some point, and it's a matter of time. My grandmother passed away when I was 12. She was about 85. But my Mum's life timeline could be different. Much shorter. She was only 45 when she got cancer.
Mum was doing well with the treatments. Things seem to be heading in the direction that we were hoping for. Yet, deep down in my heart, I had a foreboding that Mum would soon cross death's path. And, she did. She died from cancer at the age of 50.
From 2000 to 2005, in those final five years we had with Mum, we cherished every moment we were together. Every family is unique and chooses to do things in its own style. For my family, there was always room for better. Sometimes, we still think about how it would be nice if Mum were still around to travel with Dad. It would be nice for my nieces and nephew to meet their grandmother. But we did what we could at the time. None of us is hung up on things that we did, or did not do, in the past and letting that impact our lives. We have good memories that are long-lasting. The important point I learnt from my mother's death to cancer at age 50, a point that I hope you take note of is—don't keep thinking that you still have a lot of time. When life takes a turn, you could lose your precious opportunity—the gift of being alive—forever.
When one of my sisters-in-law got killed in a car accident in the year 2012, our family was devastated. Again. Another untimely, tragic death. For a good couple of months, I was afraid to step into the shop where I'd received the call from my brother, asking me to go to the police station to find out if his wife was okay. At his request, I went to the nearest police station and provided as many details as I could. After the police officer made some calls, he turned to me to deliver the tragic news. My heart sank.
We actually experienced some blessings from that event, as the situation could have been worse. How? The greatest blessing is that my other brother and niece who were in the car accident as well—they both survived. My niece was found lying in a grassy area, away from the car, crying. We were told that most likely she survived because she wasn't trapped in the wreckage of the car. Other blessings too were the many people who helped along the way. The police officer who first arrived at the accident got in contact with a nurse who was passing by the scene. He coordinated that the nurse would bring my niece to the hospital. We also heard from the news that when car accidents happen, sometimes people pretend to help, but in reality they're looking to find out where the person involved in the accident lives, so they can rob their home because they know no-one will be there. None of that happened. Instead, all the valuables and important documents were handed back to us. We do not know all who were helping, but we are deeply grateful for their acts of kindness.
Although there were blessings, it still was an awful and sad tragedy. As I see it, even when trying to follow the family motto, "Make a conscious decision to see the positivity from every event", it does not mean I deny the facts. Rather, I find it most helpful when I take the courage to face the facts, even when they are incredibly sad and painful.
I was finally able to process the entire tragic event when I took the courage to step into the shop again, the shop where I received the call from my brother. I got along really well with my sister-in-law. It hurt when I realised that I would never be able to know her in a deeper, more personal way. She made a positive impact on me, and so did Mum.
These two terrible losses have helped me to cherish the time I have with my loved ones. They also act as constant reminders to me not to delay in making any form of contribution while I still have this life. This, to me, is very important.
So my wish for you is that you don't have to go through many painful experiences to realise how vulnerable and precious life is. I share this with the hope to guide you to start thinking about what is important in your life. And what is not. How you can make your life count. We are moving toward the same destination in terms of our present life, but who you are on the journey and how the journey and the ending will play out can be very different based on the many decisions we make during our lifetimes. Helen Keller said, "Life is either a daring adventure or nothing".
So, what stories are you going to tell the next generation? I will let you answer that for yourself and for the people you love.