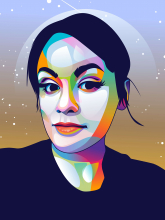 Dixon Reuel is the author of "Rise of One - Blood Brute Series #1"
She writes about vampires, zombies, and other SFF elements at dixonreuel.com.
She has been runner-up in The Patrick Kavanagh Poetry Award, The James White Award, and The Aeon Award. She was awarded a residency at The Tyrone Guthrie Centre and a mentorship via The Arts Council Ireland and Words Ireland.
Learn more at dixonreuel.com