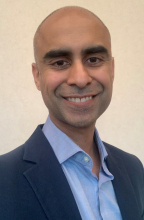 N.R. Patel was born in London, where after graduating from the LSE, he worked in a financial career that spanned London, Budapest, Dublin and New York.
One of his short stories, A New Lease of Life, was published in 2018 by the Claret Press in their collection: Insights: Fifteen Stories Exploring Disability. The opening chapter of his debut novel, Tobin and Blake, was longlisted for the 2018 Retreat West Novel prize.
He currently lives in London, where he spends his days writing, running and enjoying the work of new authors, actors, artists and musicians.