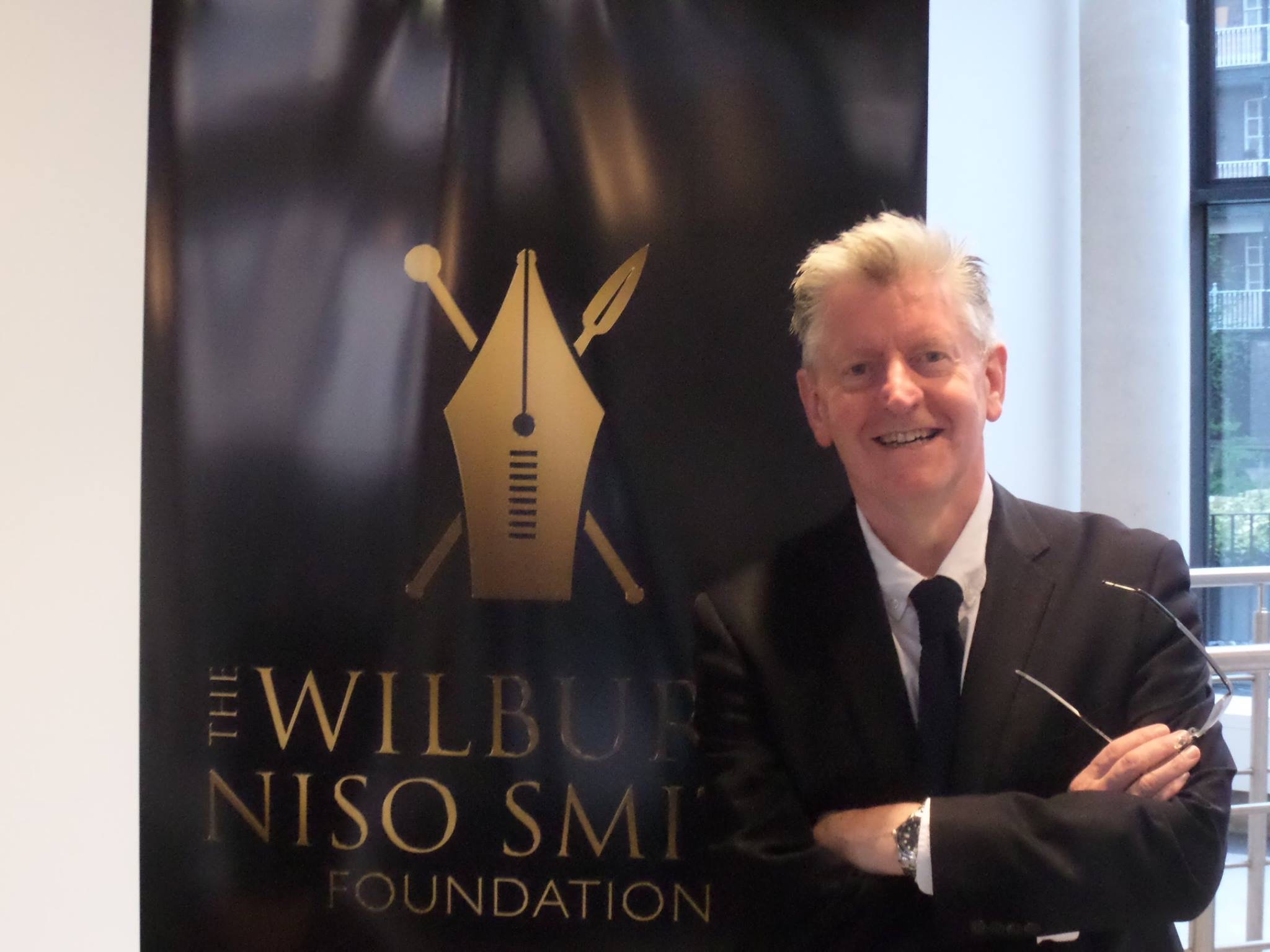 John has delivered medical aid to orphanages and hospitals across the globe, including Romania during the revolution, and South America and Bosnia during the war. His Rogues novels are based on the characters he encountered during his many dangerous missions, when he enlisted unlikely support from those he calls 'benevolent rogues'. These men and women used their wit and guile to deliver medical aid and help save lives.

He has written The Rogues Trilogy, a rousing adventure set in the two years leading up to the outbreak of WWII, which starts with 'Churchill's Rogue', followed by 'The Gathering Storm' and 'The Darkest Hour'. He has recently completed 'The Alpha Wolves', the final novel in The Lochran Trilogy, a 1960s thriller based on an assassination attempt on Sir Winston Churchill - a man who the world knows is already dying. He is currently writing The Lenka Trilogy, thrillers based in the 1990s centered on a young school teacher who volunteers to deliver aid to children's orphanages in Romania and later to Bosnia during the war, and finds herself in the company of rogues and the target of mercenaries. The first novel in the series, 'Heartbreak', was published in November 2019, with the second, 'Resilience', and the third, 'Reflection', due for release on Black Friday in 2020 and 2021 respectively.

John has also written a short, humorous play, 'The "Pane" of Rejection', based on a fictitious interview between a wry author and an acerbic critic.

In 2016, 'Churchill's Rogue' was shortlisted for the Inaugural Wilbur Smith Adventure Best Newcomer Award.

John has worked in over forty occupations, ranging from grave digger, cocktail barman and tree-lopper, to professional poker player and demolition expert, and is currently employed as a government 'Transactor' covering major infrastructure programmes across the country. His adventures continue, as he has ridden a British Army motorbike across India to support several children's charities and worked in a mental health facility in Manhattan.
But by far his greatest challenge is raising his own 'rogue', his son, Logan, with his wife, Kate.
Award Submission Title
Heartbreak, The Lenka Trilogy Part 1
Logline
1990. A young, unworldly teacher joins a perilous aid convoy and falls in love, but when targeted by mercenaries she discovers that her lover holds the darkest of secrets.
My Submission
Chapter 2: One for the Road

Midday, 3 July 1990 (five years earlier), Cork, Republic of Ireland

'Yes, Teresa, there are many religions: Judaism, Hinduism, Islam. Even our religion, Christianity, is split between Catholics and Protestants,' replied their teacher, Lenka Brett.
In the living room of the orphanage were thirty children aged between three and eight years old. The other half of the orphanage consisted of twenty-eight children, whose ages ranged between nine and seventeen. Their class, held after lunch, would be her last for at least a month.
'They will go to hell though and only us Catholics will go to heaven,' added Patrick, aged seven. 'Canon Moore said so when you took us to Sunday mass in St Mary's Cathedral last week, Miss. He says he talks to God, so I guess he knows his business'.
Lenka smothered a smile. 'Well, it's not for me to say any different to Canon Moore, but whether we go to heaven or hell, also depends on how we live our lives. Are we kind to others? Do we help and protect the vulnerable? These things are just as important.'
'You are kind, Miss,' said Christine, aged eight. 'With you going to help those children in Romania, eh all.'
Lenka peered over to the VHS video cassette recorder by the television. On top of it sat the tape containing the harrowing eight-minute television footage of the children in a Romanian orphanage, which Estelle had shown her two months earlier.
'I wish you didn't have to go, Miss,' said Christine, quietly.
The children's faces fell, though their eyes remained on their teacher sitting on a chair in front of the blackboard.
'I won't be away long, three to four weeks at most,' reassured Lenka. 'And Robert McNamara from St Bercthun's telephoned me this morning to say he's coming to help Margaret with my classes while I'm away. Margaret's a wonderful teacher, but she's delighted that Robert has offered to help over the next few weeks. He's a good man.'
'The children in town say he's very kind and delivers toys to their parents for them when they're ill,' added Josie, aged six, nodding proudly as if she had helped deliver them.
'He's a cripple, though,' shouted Davy, who was seven, as his hand shot into the air. 'He won't be as good as you in goal when we play hurling after mass on Sundays, Miss.'
'He had polio, which has afflicted some of the children under our roof over the years. Robert is someone we should admire. He worked hard and has become an excellent teacher. He's conquered huge battles, so do not judge him because of his disability.'
Davy dropped his arm and nodded. 'Yes Miss, sorry, Miss,' before mumbling, 'I'll judge him on something else.'
'Concanon's a vicious basturd,' muttered Peter, aged eight.
'Peter, say sorry for swearing, or I'll send you upstairs to Marisa. She'll sort you out.'
'Sorry, Miss,' said Peter loudly. 'Miss Ryan is good at ca . . .'
'Yes, I know what Marisa is good at. And as for rumours about St. Bercthun's headmaster, Mr Concanon, remember to judge someone by their actions and not by what you have heard about them.'
'He put three children in hospital this year, swinging his big belt,' retorted Peter.
Lenka sighed, knowing that this was true. 'Right, I'm leaving first thing in the morning, so I'll say goodbye now,' though she knew that most of them would delay going to Sunday mass to wave her off in the morning.
Suddenly, all the children, apart from Hannah in the wheelchair beside her, uncrossed their legs and raced towards her. As each child struggled to get close enough to embrace her, Lenka just managed to stop her chair from tipping backwards.
Margaret entered the living room and hesitated before clapping her hands. 'Right, come on, Foxy and Estelle have lunch on the table.'
As she herded the children out, she nodded at Lenka and smiled. It was only when they had received Robert's offer of help that Margaret had confessed that she had been terrified of managing the classes on her own.
Hannah held out her arms as Lenka bent down towards the wheelchair to give her a hug. The seven-year-old girl, who had been abandoned after she was diagnosed with spina bifida, whispered, 'We love you.'
Lenka kissed the girl gently on the cheek and said softly, 'I'll be back. Make sure the boys are nice to Robert while I'm away. They listen to you.'
Lenka wheeled Hannah into the dining room and manoeuvred her into her usual space between Peter, who was seven, and Davy. She then placed a Ladybird copy of Gulliver's Travels by each child's plate, along with an exercise book.
'I have told Margaret and Robert that I have given you some homework to do while I'm away. It's not much, but each exercise book has a list of questions that matches your ages and abilities. In your answers, I also want you to express what you think about the story. Is it simply a story about a giant or is it something more?'
'Why?' asked Philomena, aged eight.
'Because you're not robots.'
'And to make sure two or three individuals don't copy other children's answers,' continued Philomena.
'Sometimes, Philomena, I think you should be teaching my classes rather than me.'
'What's the pay like, Miss?' replied the smartest and sassiest pupil in the class.
'Don't be cheeky, Philomena,' countered Lenka, suppressing a smile.
Lenka stood behind Peter and Davy. 'Did you get that?'
'Yes, Miss,' the boys sighed, before Lenka ruffled their hair, releasing giggles.
'There'll be no point in copying Peter, anyway,' said Davy. 'Sur he's as thick as I am,' as both boys elbowed each other.
Hannah glanced critically at the boys.
'Okay, we won't copy,' said Peter, biting into a slice of soda bread topped with blackcurrant jam.
Lenka moved along and bent down to whisper into the ear of Ellen, aged six: 'Do your best.'
The black-haired girl nodded and said quietly, 'I won't copy, again. I will do my best, Lenka. I promise.'
'Then I can ask no more of you,' said Lenka, before adding, 'Do you want to join Hannah for the additional reading class before breakfast when I get back?
The little girl beamed up at her teacher, nodded and smiled at Hannah, and started to swing her legs.

Four hours later. 'Lenka, do you really think you can drive a truck across Europe on your own tomorrow?' asked Estelle.
Estelle and Viscount 'Foxy' Foxborough were Lenka's guardians, and along with Lenka's great aunt Marisa, they helped the young teacher run the orphanage.
'Look, the paperwork covering the medicine and medical equipment that we can take into Romania is only valid for a few weeks. Unless we find another driver in the next twenty-four hours, then I have no choice but to deliver the aid on my own,' said Lenka.
Foxy who had had his chauffeur, Cedric, drive him up from London to Holyhead to catch the earliest ferry and race straight to the house – bypassing the cellars of The Imperial Hotel for once – shook his head. 'We can hire a bloody driver!'
'Mind your language, Foxy, and remember yer sitting in my bedroom and above us is the blessed Holy Mother, herself,' snapped Marisa.
Foxy lifted his eyes to the picture of the Madonna and child above the bedridden but still formidable elderly woman's bed.
Lenka smiled. 'It's not like hailing a cab, Foxy. We have to find someone who is not only fit and competent, but also trustworthy. People in the town and orphanages across Ireland, including the North, have secured food and clothing, and I have given them my word that every single item will reach the children.'
'My chauffeur has volunteered his services,' retorted Foxy.
'That's very kind of Cedric,' said Lenka. 'No offence to him, but we need a younger driver. Vigour is required to cope with the long journey ahead.'
Estelle and Foxy glanced at each other; both were unsure that the young woman with a weak heart had what she claimed was needed for the journey ahead.
Foxy traipsed around the room. 'That bloody Joseph McNamara,' he growled. 'Why would he offer us not just one, but two experienced truck drivers, only to withdraw them on the eve of departure?'
Marisa sighed. 'Sadly, it looks like his offer of help was just a way of getting his own back on me.'
'Damn the man!' roared Foxy, leaping up. 'I'm going over to McNamara's house now to beat some kindness into him.'
The three women looked at their angry friend, before turning to each other.
Lying in her bed in the centre of the room, Marisa lifted her hand unsteadily to clasp Lenka's. 'When it all goes wrong, men lose their heads. It's always the women who are left to find the solution.'
Downstairs there was the barely audible sound of the knocker tapping the brass base on the front door.
'Foxy, I will be fine,' said Lenka, walking towards him. She lifted her hand and pressed it lightly against his blotchy cheek. 'Thank you for asking your contacts in the armed services for a volunteer. Fingers crossed. Everything else is in place.' Foxy inhaled deeply, looking at his ward solemnly as he pressed his hand against hers. 'I'm twenty-four and not an ingénue in some tawdry romantic novel. I keep telling you that your little girl has grown up,' she said as she rested her forehead against his.
'You've been telling me that since you were four,' grumbled Foxy.
'Then it's about time you started to listen,' whispered Lenka.
Estelle walked over and placed her hand on Lenka's shoulders. 'We know you're a woman, and a pretty determined one at that, but we don't know what you are going to meet out there. I'm as worried as Foxy, and with your heart . . .'
Lenka clutched her guardians' hands, stepped back and looked kindly at their solemn faces. 'Bloody hell! Grow up, you two. I have my heart pills. I'll be fine. I'm not entering a war zone. It's all official. I'll be back within a month.'
'Yes, it's official,' grumbled Foxy. 'But the Romanian authorities are furious about the international coverage of the state of the orphanages. They say it's scaring away investors. If anything happens, don't count on them to come to the rescue.'
There was a louder rap of the brass knocker on the front door.
Lenka squeezed their hands tighter before releasing them. She turned to Marisa: 'Can you try to put some steel in their spines, while I go and see who's at the door.'

When Lenka reached the bottom of the staircase, Davy, one of the children, had already opened the door and was dragging the caller in by the hand. The boy shouted over to Lenka, 'It's Bobby McNamara.'
The visitor looked up nervously. 'I'm very sorry to disturb you, Lenka. I know you're busy. I came in person to apologise on behalf of my family, and see if there was anything more I could do to help?' The mousey-haired man smiled awkwardly, always aware of his misshapen body, crippled by polio. 'But perhaps,' he hesitated, 'after what has happened, a McNamara is the last person you wished to see.'
'Don't be silly, Robert, you are always welcome here. Whatever your grandfather does has no bearing on our friendship with you and the rest of your family. Now, come inside and have some tea.'
'I'll stick him in da kitchen, Lenka,' declared Davy, seizing the visitor's arm and dragging him into the hallway, nearly causing the man to drop his walking stick.
'Thank you, Davy, but I think Mr McNamara would prefer it if you showed him to the kitchen,' advised Lenka.

Five minutes later, Lenka handed Robert a mug of tea as they sat at the kitchen table.
'Now relax, everything will be fine. We are very grateful for your offer to help Margaret with the teaching while I'm away,' said Lenka.
'But the driving?' added Robert.
'Foxy will pull out all the stops to find a driver, and when he puts his mind to something it's as good as done.'
'I've only ever seen him in town, when he's stopped at The Imperial Hotel to purchase cases of champagne. He always has everyone running around or in fits of laughter. The man's a whirlwind.'
'A hurricane would be a more appropriate metaphor,' boomed Foxy, bounding into the kitchen. Foxy flopped into one of the black leather armchairs that he had had installed in all the communal rooms in the house. He put his hands together as if in prayer. 'Start planning what to do with your inheritance, as I am going over to your grandfather's house tomorrow. He is shortly to meet his maker – that's of course if Marisa is right, that there is an afterlife, and the devil really does exist.'
'Once again, I'm sincerely sor . . .'
'Don't worry,' interrupted Foxy. 'Lenka is right. The sins of the grandfather are not inherited by his grandchildren – or something like that. As Lenka said, we are very grateful for your offer of help.'
'I wish I could be of more practical use and had a driving licence,' continued Robert. 'I take it that if you find someone suitable all the paperwork will have to be amended?'
'With my connections, it would not cause undue delay on our side,' replied a disgruntled Foxy. 'But of course, that's once we have found a competent individual with three to four weeks to spare who can drive a truck.'
'What about the aid? Are the food and medical supplies still valid?' continued the man, who was twenty-three, but from a distance could easily be mistaken for an old man by his laboured movement.
'The food is either tinned or in powder form, so no problem,' said Lenka. 'But some of the medicines expire in less than a month.'
'I have savings of my own. It's not much but it may help in hiring a driver or to purchase fresh medicines,' continued Robert. He lifted an envelope from inside his thin grey raincoat and pushed it along the blue and white checked tablecloth towards Lenka. 'It is all I can offer for now, I am afraid. However, I would be delighted to make a contribution on a monthly basis, to cover the additional expenses you have incurred due to the delay.'
Lenka lifted the envelope from the table and placed it back inside Robert's coat pocket. 'We have money, but thank you for the offer.'
'My grandfather is a bitter man. It's sixty years since Marisa broke off their engagement. To be honest, I was more surprised by his offer to help in the first place, than I was that he withdrew his support this morning.'
Robert saw the letter that had arrived in the first post, which lay opened on the table. He recognised the writing.

Miss Brett,
I am withdrawing my offer to supply drivers for tomorrow. A country should look after its own and not look to me for help.
Marisa must live with the knowledge that her cruelty to me will now cost the lives of children.
J McNamara

Robert closed his eyes tightly and sighed. 'Has Marisa seen this?'
'No, your grandfather clearly wants to inflict as much pain as he can on her, and I will not be his conduit.'
Foxy leaned forward in the armchair. 'Something else troubles you, young man?'
Robert's hands began trembling so much that he only just managed to place his cup and saucer back on the table. 'As you know I teach in the local school, St Bercthun's . . .'
Foxy raised his eyebrows repeatedly, as he did when he was about to put a friend in an embarrassing position. 'Isn't that the place you refer to as St Birch 'em, Lenka?'
'Yes, it is, and thank you for pointing that out in front of its best teacher,' replied Lenka, who was used to Foxy's mischievous nature. 'But my issue is with the headmaster, Mr Concanon, and his free use of the belt on the children, not with his staff.'
'I approached Mr Concanon after school yesterday to request a sabbatical, to cover my time here. He dismissed me immediately,' said Robert.
'I'm so sorry, Robert,' said Lenka.
'You're clearly an intelligent man so you should have no problem in securing a new position in an excellent school,' added Foxy.
Robert looked at his limp right arm and spindly legs. 'I have tried, but no one wants a cripple. It was only due to my late parents' influence that I secured a teaching position at St Bercthun's last year.' He clasped his hands to stop them trembling.
'If you wish to withdraw your offer to help us here, I completely understand,' said Lenka, with a sympathetic smile.
'I do not. We have grown up together, and you know that I am neither a strong nor a brave man, but I have never broken my word.'
'So what is it?' continued Lenka.
'I realised that Mr Concanon's reaction will be nothing to that of my grandfather when he hears that I am to teach here.'
'I take it, that he would not only throw you out of his house but cut you off without a penny,' added Foxy.
'I do not fear his wrath, or am cowed by the threat of being disinherited, and I have enough money to pay for a room above Kennedy's Bar in town. My fear is that he will throw his wealth and influence behind those who wish to close this orphanage down.' Robert looked solemnly at Lenka and Foxy. 'In light of what I have just told you, you should seriously reconsider your charitable offer.'
'Charitable?' said Lenka, glancing at Foxy.
'You know that I'm unhappy at St Bercthun's as I do not condone the headmaster's use of violence on the children, so you graciously accepted my offer even though you have other, more beneficial, options.'
'You underestimate your qualities, Robert,' said Lenka. 'English and science are my forte, art and music Margaret's and history and geography are yours. Margaret and I do our best, but your presence would fill a huge gap in the children's education.'
Robert looked anxiously at Lenka. 'Please do not think that I am trying to manoeuvre you into withdrawing your offer because I now fear for my position and future wealth. The simple fact is that either of your guardians could easily assist Margaret over the next few weeks.' He tried to steady his trembling hands by pressing them on his knees.
Robert turned to Foxy. 'I am sorry, Mr Ar . . . sorry, Foxy . . . but as I have explained, you do see that my presence here could only bring more trouble?'
'You're right. I could assist Margaret in some small way,' sniffed Foxy. 'But having to reside here, poses an even greater threat to the orphanage than your vinegary grandfather.'
'How?' asked Robert.
'I'm as camp as Christmas,' continued Foxy. 'And if the authorities heard that a homosexual taught here, they would have me arrested as a paedophile. All nonsense, but unfortunately bigots often secure positions of prominence. My fear is not that I would be incarcerated, perhaps even castrated – though sadly, that would be as pointless as trying to immobilise a car by removing the fluffy dice from the mirror after its tyres have blown – but that the authorities would finally have their excuse to shut the orphanage down.'
'Foxy,' said the astonished Lenka. 'You must be careful about what you say. Homosexuality is still a crime in Ireland, and you've put Robert in a terrible position.'
'Have I?' asked Foxy, staring at the man.
'Sir . . . Foxy,' spluttered Robert.
'Just Foxy for now. The government will only confer the title in absentia when the embarrassment factor has passed, and I'm either interned in a casket or my ashes are polluting the heavens.'
'Err . . . yes,' replied Robert, not sure what to believe. 'I am shocked at your honesty, and clear disregard for your own safety. I certainly have no issue about your sexuality, nor for that matter do I have any justifiable fear for the children's safety.' He grasped his hands together. 'Indeed, I am honoured, Sir, that you decided to take me into your confidence, having only just met me.'
Lenka looked at her guardian, shaking her head. 'You really do push the boundaries, Foxy. You will end up in jail one day or worse.'
'Worse!' challenged Foxy.
'I'll sneak into your hotel room and run a lawn-mower over that wilderness on your head posing as hair.'
Foxy clutched his hair with both hands and feigned a look of horror.
The young man straightened up. 'Lenka, I would very much like to teach here until your return. That is providing you are still happy to have me knowing the risk posed by my grandfather?'
Foxy glanced at Lenka, nodding. 'Your call as always, Lenka, but for what it is worth, the young man has passed my test.'
'Test?' replied Lenka, shaking her head. 'What test? God, you're infuriating. You would try the patience of St Peter!'
Foxy shrugged like a little boy with a catapult standing by a broken window. 'I was testing his good character. If he had run off and denounced me to the authorities, I would be on my way to jail, but the children would be well rid of him. Instead, he has shown himself to be a fair and decent man. The children will be in good hands.' He clasped his hands over his bulging, emerald green waistcoat, looked up at the grandfather clock and decided it was time for something stronger than tea.
Lenka sighed, before turning to Robert and holding out her hand to the young man. 'Welcome. I'm still looking for a driver, but I have secured an excellent teacher.'
Robert gingerly shook her hand. 'Thank you.'
She peered into Robert's flickering green eyes. 'Did you honestly believe that I would have the children taught by the biggest child in the class.'
Robert smiled as Foxy huffed. 'I confess, I'm not looking forward to telling my grandfather.'
'Oh! Leave that delightful pronouncement to me,' said Foxy, uncrossing his arms. 'I will help him to dig deep into his soul and find some modicum of decency that he never knew existed.'
'You behave, Foxy!' came a voice from upstairs.
'That was Miss Ryan,' said Robert feverishly. 'Oh no! I'm so sorry. I should have gone upstairs to pay her my respects. But I have to go now, as I have promised to prepare tutorials for my replacement on Monday. Please tell Miss Ryan that I was asking after her and that I will pay my respects to her properly, next week.'
'I will tell Marisa,' said Lenka, helping Robert to his feet.
Foxy nodded to the younger man, as he raised a freshly poured glass of Haig whiskey in his direction.
Before Lenka and Robert reached the front door, they were met by the dead thud of the doorknocker. The young man stumbled, but Lenka caught him.
Lenka opened the door to find a clean-shaven man, in naval uniform, occupying two-thirds of the frame. His stern face instantly broke into a smile when he saw the blonde-haired woman. He removed his peaked cap, slipped it under his arm and quickly swept back a comma of black hair that had fallen above his right eyebrow.
'You are Miss Lenka Brett?'
Lenka nodded.
'I am Captain Simon Trevelyan Syrianus, ma'am. I believe you're looking for a driver.'