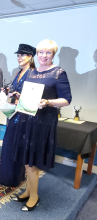 Born in Riga, Latvia, to Lithuanian parents, my name is Aldona Grupas. 
In I976 we moved to Lithuania, Klaipeda, and the third largest city in Lithuania. I lived there for most of my life before coming to the UK in 2005.
I studied in Nursing college of Klaipeda and start my Nursing in 1979. Also I studied law at Riga University of Law in 2001 – 2005.
In 2005 we moved to UK.  Relocating to Wolverhampton I started a helpline for the Lithuanian community there, chairing the enterprise for 12 years. Established Emerging Communities charity. In 2014 I left charity. 
I have worked in a nursing home as a nurse for over 15 years. I know this work, I met a lot of people and I am writing a book about nursing. It is my and my colleagues' stories about nursing in the UK.
I write books. I am the author of a book charting the history of the Lithuanian community in the West Midlands since the Second World War and a book about Lithuanian writers in the United Kingdom. I created the Albion Art Club in Birmingham; I am the PR manager of the online magazine East-West Literary Portal, a member of the Eurasian Creative Guild. 
6 my books have been published, 1 of them at Hasmark Publishing International.
My books:
NURSE, GIVE ME A PILL FOR DEATH…
IT'S HARD TO BE AN ANGEL
WEST MIDLANDS HO!
THE WAY OF THE HEART
A HISTORY OF LITHUANIAN WRITERS IN THE UNITED KINGDOM.
Film biography:
Documentary film 'Nine seas away 'produced by Royal film academy, London. Based on my book West Midlands Ho!
AWARDS:
Hertfordshire Press Award 2022, London  'Best Biography'
VIII Open Eurasian Literature festival, Brussels 2019
2nd place in Woman's writing.
XI Open Eurasian Literature festival, London 2020
3rd place category 'Literature' in nomination Prose